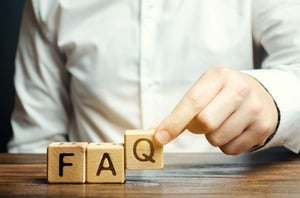 A wide range of industries rely on
air-operated double-diaphragm (AODD) pumps to keep their operations running smoothly. From wastewater treatment to pharmaceutical production to chemical manufacturing, pumps keep many industries running at top speed.
In this blog, we'll address the most frequently asked questions about air-operated pumps.
What Are the Benefits of AODD Pumps?
AODD pumps deliver unique benefits that are unrivaled by other pump technologies, making them the clear choice for many of the world's most challenging applications.
AODD pump applications are broad because AODD pumps are capable of safely and effectively handling anything from water to solids-laden slurries—including volatile and dangerous liquids. Their flexibility allows one pump to tackle numerous applications without costly motor drives or critical sizing calculations.
AODD pumps offer additional advantages that competing pumps can't match. AODD pumps:
Run dry without damaging the pump or system
Require no electricity
Can be installed in suction lift applications, flooded suction applications and submerged applications
Meet required industry certifications
Provide a seal-less design, eliminating the need for mechanical seals between pump and motor
For additional information, check out the complete list of benefits of AODD Pumps.
How Much Do AODD Pumps Cost?
AODD pump cost can vary greatly depending on the materials of construction. Generally, AODD pumps fall much lower on the price spectrum than other pumping technologies. This allows for distribution to carry more local inventory, further reducing lead times.
When it comes to air-operated pumps, however, price isn't everything. To get the most efficient performance, spending a little more upfront pays dividends down the road when determining the correct AODD pump.
Here are a few things to consider, other than price, when choosing an AODD pump.
How Can I Control the Flow Rate in an Air-Operated Pump?
There are several ways to control your pump's flow rate. The easiest, and most common would be a filter regulator. Filter regulators protect the air valve of the pump by removing solids and liquid contaminants from the air lines while providing additional precise pump control.
The air filter regulator can also help you start the pump in a gradual, "soft" manner, which creates less stress on the pump's components.
Does a Pump That Uses More Air Volume Also Use More Energy?
Air-operated pumps, like their name suggests, run off compressed air. While pneumatic pump manufacturers continue to push the efficiency envelope, standard diaphragm pumps require significant air pressure and volume to run optimally. In order to understand if your current air compressor is sufficient for your needs, you'll want to focus on the flow curve of the pump, which can be found in the service and operating manual and pump data sheet.
The biggest lifetime cost of a pump is powering it. Supplying enough air to power AODD pumps often requires expensive air compressors. If you invest in an efficient pump, the energy savings will continue to add up.
The same goes for flow rates. The higher the flow rate, the faster your job gets done. This ensures deadlines are met, allowing for increased production. When more product is produced in a shorter amount of time, profits increase. It's important to understand your pump's performance envelope and energy requirements in order to ensure the highest product displacement while using the least amount of air.
What Is the Max Viscosity That Can Be Transferred by an AODD Pump?
"If you can pour it, we can pump it" is a common phrase used to describe AODD pumps, which can handle just about any fluid that can flow up to 90,000 cst (415,500 ssu). They can be specifically fitted to achieve even more.
Using weighted valve balls and oversizing the pump will help when pumping very viscous products. Gravity-feeding the product into the pump is also ideal.
What Are the Main Key Factors for Pump Maintenance?
Though AODD pumps are known for their consistency and reliability, just like any piece of equipment, they need routine maintenance to ensure long-term durability.
Fortunately, wear components of an AODD pump are limited. Common wear components include:
Diaphragms
Balls
Seats
Flaps
While these are offered in kit form for easy ordering and stocking, individual wear components are also available on both the wet and air sides of the pump.
Discover the common diaphragm pump maintenance issues and how to fix them.
How Can I Check if an AODD Pump Is Ok for Use With Specific Fluids?
AODD pumps can be fitted in a wide range of wetted materials and elastomers, allowing them to handle just about any fluid. The most reputable manufacturers offer a variety of tools and resources, including a chem guide, to support your AODD pump. This interactive guide is designed to help you select the right pump and materials for your application.
Do I Need to Check the Torque of the Pump's Bolts?
When installing a new AODD pump, or one that was repaired and placed on the shelf for later use, you should always check the tightness of the pump's hardware.
Though this seems intuitive, many operators don't know that pump hardware tends to loosen up due to material creep, vibration in transit and temperature changes. Hardware torque specifications can be found in the service and operating manual.
Remember: It's important that the pump isn't under pressure when tightening hardware.
AODD Pumps: The Right Choice for Your Application
With so many pumps on the market, it can be challenging to find the information you need to make the right choice. Product quality, cost, delivery options and post-sale support are all important.
The AODD pump is a proven market leader when it comes to reliability, durability and versatility. SANDPIPER's customer service team can walk you through the product, providing you with certainty in your purchase.
The SANDPIPER product portfolio offers unique series options that have been designed as solutions for your most challenging and critical problems. Over five decades of innovation have resulted in many class-leading options to provide you with the perfect pump for your unique application needs. You can trust SANDPIPER's wide range of products to satisfy everything from your most basic to most demanding requirements.