We're here to partner with you to ensure you select the very best pumping equipment to solve your most challenging application needs. We'll provide the right equipment the first time, and we'll be there to support you with expert service to support you throughout the life of your pump—from selection through maintenance.
For more than 50 years, SANDPIPER, the original Warren Rupp pump brand, has been a leader. We offer continuous innovation and provide the broadest range of the most reliable and durable air-operated double-diaphragm (AODD) pumps to support an extensive set of markets around the world.
We stand behind our industry-leading range of pumps, which are backed by a best-in-class factory warranty. Offered in various sizes, types and models, SANDPIPER has the widest range of product configurations and unrivaled pump technologies to solve your unique market, compliance or application problems. Each pump is backed by:
Superior workmanship: Our pumps can handle any environment, from your most basic pumping needs to the most demanding applications
Problem-solving expertise: You get solutions quickly, which reduces your downtime
Industry-leading durability and performance: We focus on improving your efficiency so you experience more uptime
Best-in-class delivery: Our highly efficient factory operations, as well as our local stocking distributors, get you what you need faster than other AODD pump manufacturers
Decades of Innovation & World-Class Engineering
Our story explains why we've been able to stand the test of time to meet the demands of a constantly changing marketplace.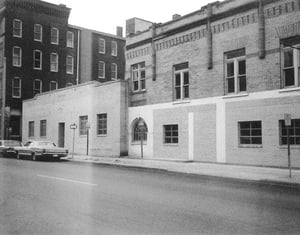 1965: Warren Rupp Founded
In the spring, Warren Rupp left the Gorman-Rupp Co. to build a company founded on the principle of building "new and different pumps" as the "Originators in Pumping." Founded by Warren E. Rupp and Charles E. Young, Jr., the company started with $8,000 equity capital in Mansfield, OH. Mr. Rupp and Mr. Young purchased 30' by 60' two-story building in downtown Mansfield.
Porta Pump is launched shortly after, with the founder's hand assembling the first 25 Porta Pumps. Porta Pump was born when Warren used an old lawnmower motor from a manufacturer that discontinued the production of a battery-powered lawnmower.
1968: SANDPIPER Introduced
Warren Rupp's premier brand is created with the development of the SA2 Flap Valve pumps. It was born by substituting a prior pump design with air for water and by doubling the diaphragms. This double diaphragm pump is new to the industry and is known today as the Heavy-Duty Flap.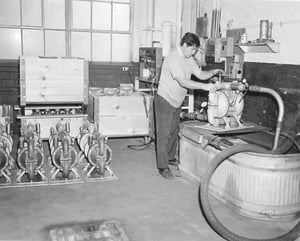 1974-1975: Relocation
As the company continued to grow, a new, 50,000 square foot manufacturing plant was built on a twenty-acre site, which is the current location. The current site has since expanded to 80,000 square feet.
1978: International Sales
Through its distribution network, Warren Rupp begins selling internationally.
1984-1986: Facility Upgrades
Additional growth facilitates the addition of new front offices and new machinery in the manufacturing plant.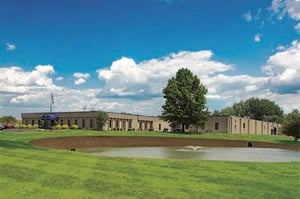 1986-1987: Acquired by IDEX
Houdaille Industries, based out of Fort Lauderdale, FL, purchases Warren Rupp. Don Boyce, Financial Controller, orchestrates the purchase. Six months after the acquisition, Houdaille Industries goes public and renames as IDEX Corporation. Boyce later goes on to become President of IDEX, headquartered in Chicago, Illinois.
1999: Acquisition of Pumper Parts & Versamatic
Warren Rupp acquires Pumper Parts and Versamatic. The purchase is facilitated to obtain both the Versamatic pump product line, as well as its Pumper Parts replacement parts. Manufacturing operations for Versamatic later move from Export, PA to Mansfield, OH in 2008.
2006: Milestones & New Products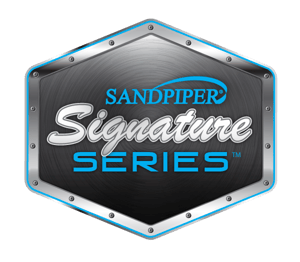 SANDPIPER forms its Signature Series line of products, which includes:
Relabeling the SA series flap valve pumps as Heavy Duty Flap Valve (HDF) pumps
SB series of ball valve pumps becomes Heavy Duty Ball Valve (HDB) pumps
Virtually Impervious Pump (VIP) becomes Containment Duty
Rupp Guard becomes the new Containment Duty ball valve line
S-Series remains as the Standard Duty ball valve pumps
On August 23rd, Warren Rupp reaches a new milestone: over one million pumps have been produced.
2011: Business Unit Of The Year
Warren Rupp is awarded IDEX Corporation's Business Unit of the Year.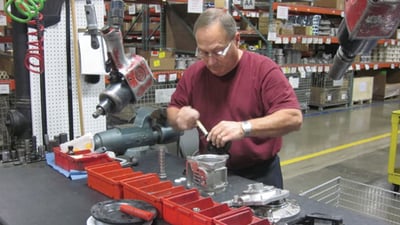 2012: Award-Winning Manufacturing Renovations
Manufacturing plant undergoes a major renovation. This includes a heavy investment in automation and improvements to material flow. Additionally, there's remodeling on the assembly floor, conveyors are installed, and additional office space is built.
Warren Rupp is named one of the nation's best manufacturing plants by Industry Week Magazine, making Warren Rupp the only AODD manufacturer to win this award in 2012
2013: National Recognition.
Warren Rupp is featured on The Green Room, an environmental National Television Series, highlighting the high energy efficiency and eco-friendly strategies of the company.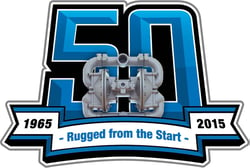 2015: 50 Year Anniversary
Warren Rupp is featured on FOX Business Network's Manufacturing Marvels.
2017: Evolution Introduced
Evolution improvements are introduced to select SANDPIPER pumps, focusing on increasing max flow rate while decreasing air consumption. Any pump model receiving these updates is identified with the Evolution in SANDPIPER literature today.

2018: Community Involvement
Warren Rupp achieves new milestone in community involvement, achieving 75% employee participation and donating over 800 hours in total volunteer service.
2019: President's "E" Award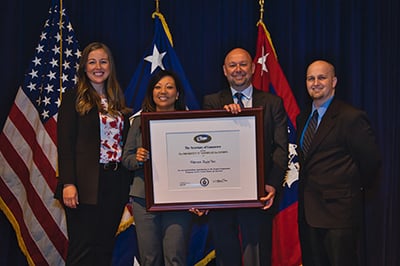 The Mansfield, OH facility experiences a renovation of main office and engineering areas.
On May 24, U.S. Secretary of Commerce Wilbur Ross presents Warren Rupp Inc. and 48 other companies with the President's "E" Award for Exports at a ceremony in Washington D.C. The President's "E" Award is the highest recognition any U.S. entity can receive for making a significant contribution of U.S. exports. The company celebrated the award with a cookout, flag-raising ceremony, and with special guests and elected officials.
2020: F-Series Released
In December 2020, SANDPIPER released a new line of FDA-compliant pumps. The F-Series pumps feature clamp-band construction for applications requiring frequent cleaning. F-Series boasts features necessary for the production of food and other sanitary products. Pumps are electropolished 316 stainless steel wetted sections for reduced product adhesion. They also feature nickel-plated aluminum non-wetted sections for compatibility with washdown chemicals (polypropylene or stainless steel available on some models).
PRESENT
Today, Warren Rupp pumps are offered worldwide through independent authorized distributors in at least 75 countries.