In 2018, U.S. exports were the highest on record with U.S. services at $821.1 billion and U.S. exports of goods reaching $1.7 trillion, demonstrating how American private enterprises can not only survive, but thrive, in the international market. While SANDPIPER has a large presence in the United States, our large base of international customers trust SANDPIPER pumping technologies to solve their most critical and challenging pumping applications.
2019 U.S. Presidential Award Recipient for Exports
Awarded by the U.S. Department of Commerce, the President's "E" Award is the highest recognition any U.S. entity can receive for making a significant contribution to the expansion of U.S. exports.
American companies are nominated for "E" Awards through the U.S. and Foreign Commercial Service office network, located within the U.S. Department of Commerce's International Trade Administration. Record years of successive export growth and an applicant's demonstration of an innovative international marketing plan that led to the increase in exports is a significant factor in selecting the overall winners.
In May 2019, U.S. Secretary of Commerce Wilbur Ross presented Warren Rupp, Inc. with the President's "E" Award for Exports at a ceremony in Washington, D.C.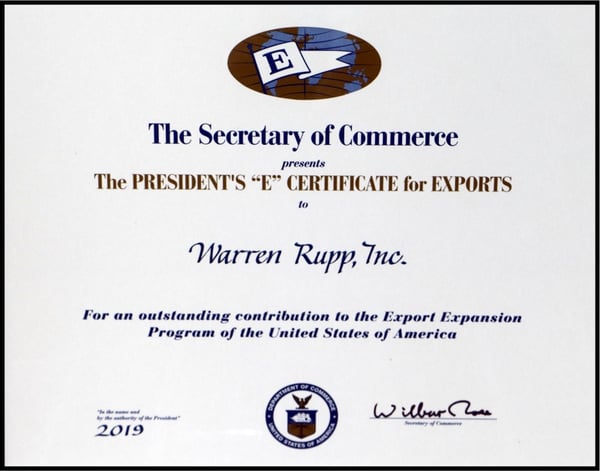 "Warren Rupp has demonstrated a sustained commitment to export expansion. The "E" Awards Committee was very impressed with Warren Rupp's innovative development of new products specifically for export markets," said Secretary Ross in his congratulatory letter to the company announcing its selection as an award recipient.
"The company's work to achieve regulatory approvals that help sustain and expand export sales was also particularly notable. Warren Rupp's achievements have undoubtedly contributed to national export expansion efforts that support the U.S. economy and create American jobs."
SANDPIPER's parent company, Warren Rupp, Inc., was one of the 48 companies recognized with the award for supporting the U.S. economy and creating American jobs.
Click here to view the original press release on the IDEX Corporation site.
To learn more about the President's "E" Award, visit the U.S. Department of Commerce.

Ensuring Export Compliance
The U.S. Department of Commerce regulates certain U.S. products for export. These controlled products require specific export licenses to be issued to the exporter before being shipped from the U.S. to other countries.
Our Trade Compliance Department ensures the fastest export license processing times possible. We are here to guide you through the process to make sure you get our industry-leading durability and performance in a manner that complies with export laws, no matter where you are in the world.
To view IDEX Corporation Policy on Compliance and Integrity, click here.
If you believe an export license may be required, please reach out to our compliance department at WRMEXPORTCOMPLIANCE@idexcorp.com. They can assist with any questions you have.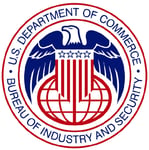 Letter to All International & Domestic Sales Management & Channel Partners