COMMON LITHIUM-BASED BATTERY MANUFACTURING APPLICATIONS FOR SANDPIPER AODD PUMPS
Below are the most common lithium battery types. Our Signature Series AODD pumps can easily be applied to any and all of these slurry pumping applications. Our stainless steel and polypropylene pump materials are compatible with these process liquids as well as the slurries used to produce the graphite anode. From material processing right through to the battery cell production process, the SANDPIPER AODD pump can handle it all.
Chemical Description

Common Abbreviation/
Chemical Compound

Uses

Lithium Titanate
LTO/Li2TiO3
Electric Vehicles and Grid Storage
Lithium Iron Phosphate
LFP/LiFePO4
Electric Vehicles, Hand tools, Medical devices
Lithium Manganese Oxide
LMO/LiFePO4
Electric Vehicles, Hand tools, Medical devices
Lithium Nickel Manganese Cobalt Oxide
NMC/LiNiMnCoO2
Electric Vehicles, Hand tools, Medical devices
Lithium Cobalt Oxide
LCO/LiCoO2
Small Batteries, Cell Phones, Laptops
Lithium Nickel Cobalt Aluminum Oxide
NCA/LiNiCoAIO2
Electric Vehicles and Grid Storage
The SANDPIPER AODD pump is a critical component of the cathode/anode process and the battery cell process. These pumps are durable in tough applications, flexible enough to handle system upsets, and are the perfect pumps to keep your battery manufacturing process up and running.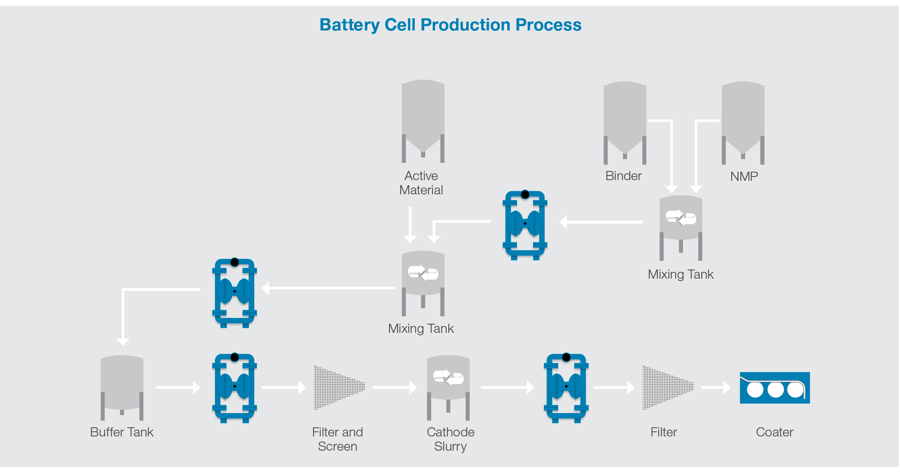 COMMONLY USED SANDPIPER AODD PUMPS IN THE PRODUCTION OF LITHIUM-ION BATTERIES
Basic transfer of chemicals and slurries: All are available with materials designed to reduce process contamination.

Specialty Pumps for All Your Battery Processing Needs:
1 1/2" (ST1-1/2/ST40) Metallic Ball Valve

Containment duty for added safety and leak prevention when pumping hazardous acids and solvents

2" (HDB2/HDB50) Metallic Heavy Duty Ball Valve

Down ported ball valve designs for heavy solids and high viscosity cathode and NMP mixing

2" (EH2M) Metallic Ball Valve

High-pressure pumps for high friction losses and high discharge pressures; ideal for high viscosity slurries and filter press applications


SANDPIPER'S EXTERNALLY SERVICEABLE AIR DISTRIBUTION SYSTEM (ESADS+)
SANDPIPER's externally serviceable air distribution system (ESADS+) allows for quick and easy access to the pilot and spool valves without removing the pump from service, maximizing uptime! We have standardized one ESADS+ design for all 1.5" through 3" pumps for maximum interchangeability and reduced on-site inventory. Learn more here.