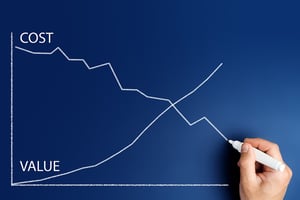 Many process engineers love their jobs. Except when they need to convince upper management that price isn't the only way to evaluate a product.
While management usually stays laser-focused on the bottom line, process engineers know it's frequently more efficient in the long term to spend more on a high-quality product.
Management might agree and budge on the budget if they have enough information. When it comes to AODD pump prices, a strong case can be made that spending a little more upfront pays dividends down the road.
Make a Great Value Even Better
In most cases, AODD pumps cost significantly less than other positive displacement pump styles (like lobe, gear or progressive cavity). They also don't require expensive motors, controls or expert installation.
When you consider the reliability, versatility and durability of AODD pumps, they're a bargain compared to other technologies.
Versatility Can Lead to Cost Savings
AODD pumps handle many applications across a broad range of industries. This is because AODD pumps:
Offer efficient solids handling without pump or product damage.

Will not shear the end

product

.

Have variable flow and head pressures.

Have excellent chemical and temperature resistance with the ability to handle just about any fluid.

Can handle a wide viscosity range.

Are portable.

Can be used where running dry or dead heading is unavoidable.

The seal-less design is ideal where leaks must be avoided.
Because AODD pumps can handle so many different applications, a facility can rely on a small number of pumps to manage a wide variety of jobs. With fewer pumps and pump models being used, less spare parts are needed, which reduces inventory costs and simplifies maintenance.
Leading AODD pump manufacturers employ engineers who work with you to find the right pump for your applications. Having a pump that meets your performance requirements will save time, and time saved equals dollars saved.
Enhance Efficiency and Durability by Streamlining Maintenance
Many managers don't take maintenance into consideration when budgeting for equipment. But a lower initial purchase price may not save money in the long term.
If frequent repairs or disruptive maintenance shuts down production, profits take a hit and that cheaper pump may turn out to be very expensive to own.
Invest in a pump that makes maintenance quick and easy. Some AODD pump manufacturers have found ways to speed up routine maintenance, drastically reducing the amount of time pumps are offline.
Buying pumps from companies with a proven track record of producing quality products helps save on repair costs. High-quality pumps are less likely to fail. If they do, a team of pumping experts will work with you to get production back up and running quickly.
Low Air Consumption + High Flow Rates = Large Savings
The biggest lifetime cost of a pump is powering it. Supplying enough air to power AODD pumps often requires expensive air compressors. If you invest in an efficient pump that doesn't use as much air, power savings add up.
The same goes for flow rates. The higher the flow rate, the faster your job gets done. This ensures deadlines are met and even allows increased production. When more product is produced in a shorter amount of time, the company's profits soar. That's why it's important to purchase pumps that require less air to operate and offer high flow rates.
A Wise Financial Decision Goes Beyond Price
If you're responsible for finding ways to improve processes and to save time and money for your company, we can help.
For more than 55 years, SANDPIPER has used advanced engineering to build the highest-quality and most efficient AODD pumps in the industry. With SANDPIPER you get:
Quick and easy maintenance:

SANDPIPER's exclusive design allows access to the complete air distribution system (ESADS+) without removing the pump from service. Repair or clean in five minutes versus 55 minutes for competitors.

Trusted design:

SANDPIPER's ESADS+ is fully interchangeable with prior designs, repairable and inline serviceable. Other manufacturers' designs aren't as versatile, leading to an increased cost of ownership.

Industry-leading efficiency:

For example, SANDPIPER's S20 model is the world leader in maximum flow rate, allowing you to get your work done faster. SANDPIPER's S30 model requires up to 56% less air to operate, reducing the load on your operating costs.

Problem-solving:

Our technical

expertise

and expert service support you throughout the life of your pump—from selection through maintenance.
With SANDPIPER, you get more than just a pump. Our unrivaled technologies ensure you get a high-quality product with performance, durability and reliability you can trust.