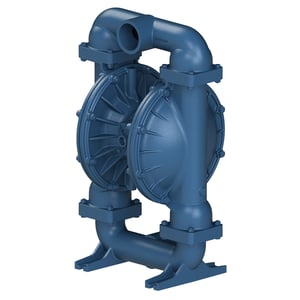 Many industries rely on air-operated double-diaphragm (AODD) pumps to keep their operations running smoothly. From automotive and chemical manufacturing to pharmaceutical production and wastewater treatment, many industries stay running at top speed because of AODD pumps.
These double diaphragm pumps offer unrivaled advantages compared to other pumping technologies, making them the clear-cut favorite for many of the world's most challenging fluid transfer and solids handling applications. AODD pumps are known for their simplicity and ability to reliably and safely transfer industrial liquids, solid laden fluids and slurries.
In this blog, we'll discuss the key benefits of these double diaphragm pumps and why they're so prominently used in so many different types of industries.
DIAPHRAGM PUMP APPLICATIONS
AODD pumps are versatile and reliable pumps that are used for applications in various industries. Some common applications of AODD pumps include chemical processing, wastewater treatment, mining dewatering, paint and ink production, and transfer of food products. Their self-priming ability and ability to run dry make them a popular choice in many industrial settings.
Markets and applications where diaphragm pumps are often used:
The Benefits of Double Diaphragm Pumps
Double Diaphragm Pumps Can Run Dry Without Damaging the Pump or System
AODD pumps can run dry for an extended period of time without damaging the pump or its components. Other types of positive displacement pumps may be damaged by running dry, which shortens their service life and increases maintenance hours and cost.
Double Diaphragm Pumps Require No Electricity
AODD pumps require no electricity and can be used in enclosed spaces or underground, which means they can operate safely and reliably in explosive environments when equipped with the proper provisions.
Double Diaphragm Pumps Can Be Submerged and Still Operate
AODD pumps can be completely submerged and not have their performance affected if:
The pump's materials are compatible with the surrounding fluid

The air exhaust port is above the liquid level so fluid doesn't enter the pump via the air exhaust
Double Diaphragm Pumps Meet Required Certification Levels
AODD pumps can come with a wide range of certifications to meet the needs of users across the globe. Some common certifications include:
3-A

CSA

NACE

UL

ATEX

FDA

ABS Marine

ISO 9001

ISO 14001
Double Diaphragm Pumps Have a Sealless Design
AODD pumps don't use or require expensive mechanical seals to operate, which helps prevent leaks and additional costs in replacing seals and packings.
Double Diaphragm Pumps Have Variable Flow and Head Pressures Without Sophisticated Controls
AODD pumps provide a wide range of flows without costly, sophisticated controls. Standard 1:1 ratio AODD pumps can operate with pneumatic pressures up to 125 psi (8.6 bar).
Other ratios AODD pumps, such as a 2:1 high-pressure unit, can produce pressures up to 250 psi (16.5 bar) when operating at 125 psi (8.6 bar). High-pressure units are occasionally used in applications requiring greater force depending upon the need (e.g., injecting into a pressurized line, viscous fluids or pumping further distances).
Double Diaphragm Pumps are Inexpensive Compared to Electric Pumps With Motors
Compared to other technologies, the initial costs of AODD pumps are considerably less expensive as they don't require expensive motors, controls or expert installation.
Double Diaphragm Pumps Deadhead Safely With No Product or Mechanical Damage and Seamless Restarting
Many other pumping technologies require special controls or circulation loops that allow the pump to "deadhead". AODD pumps are a great option for applications that are intermittent and require frequent deadheading because of on/off situations.
Double Diaphragm Pumps Are Shear-Sensitive/Gentle
AODD pumps are gentle on the product being pumped and will not separate or create frothing, which is critical when pumping products that can be altered or ruined if sheared.
Diaphragm Pumps Are Flexible
Double diaphragm pumps can be manufactured with many different materials, sizes and certifications. Thus enabling AODD pumps to be one of the most widely used pumps in the world.
Diaphragm Pumps Are Self-Priming
Unlike some other pumping technologies, AODD pumps are self-priming and don't require positive inlet pressure to prime (flooded or needing a dry suction lift).
Double Diaphragm Pumps Are Easy to Install
AODD pumps simply need air supply to power the pump. The pump can be controlled with a valve on the fluid discharge or by controlling the air coming into the pump. Accessories like filter regulators and air regulators are reasonably priced and easy to add to the pump.
The Common Problems That an AODD Pump Can Solve
Dangerous Chemicals Handling: Pump dangerous chemicals without worrying about chemical compatibility or other possible safety issues.
Solids Handling: Fluid containing solids can be pumped without clogging and/or stopping, which means less costly production downtime and less maintenance labor and costs.
Start/Stop Challenges: Gain the ability to start and stop automatically based upon open and closed lines downstream from the pump, especially when:
Operators forget to stop pumps upstream of a valve they just closed

Blockage in a line occurs from suspended solids

Unwanted materials can occasionally be found in the line
Fluids Handling: Handle thicker or sensitive fluids without shearing or damaging the product.
Temperatures: Don't worry about temperature. These pumps handle a wide range of temperatures and will perform smoothly whether you have an outdoor application in Northern Alberta or an indoor manufacturing application where temperatures exceed 300 degrees.
Run Dry: AODD pumps can run dry when a well, tank or fluid supply runs dry; this capability is especially helpful in remote locations where immediate detection may not be possible.
AODD pumps can be configured to meet an extremely wide range of applications. While other pumping technologies will be able to handle some of your needs, they may not be able to handle all of them.
A Versatile Technology
AODD pumps are the chameleons of pumping technology. And because of their relatively low purchase and maintenance costs—as well as their superior all-around performance and capabilities—they're one of the most widely used pumps in the world. Whether your application requires low or high flow, harsh or gentle performance, you can count on air operated double diaphragm pumps.
As a leading AODD pump manufacturer, SANDPIPER provides the best solutions for your most difficult pumping challenges, and our accessories ensure your systems perform optimally. Find an AODD pump distributor or contact us with any questions.