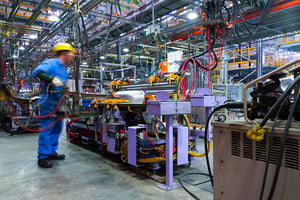 If you're in charge of a plant full of equipment and machinery, you know the importance of keeping everything running smoothly to maintain your production schedule and minimize downtime. Unplanned downtime leads to lost revenue and should be avoided at all costs.
Though air-operated double-diaphragm (AODD) pumps are known for reliability, just like any piece of equipment, they need routine maintenance and repair to ensure long-term durability. Fortunately, AODD pumps are easy to maintain because they contain only a handful of parts. Fewer parts mean fewer repairs, resulting in a pump that requires less maintenance than other pump types.
In this blog, we'll discuss the tips and tricks for maintaining your AODD pump so that it works as efficiently as possible.
Preventative Maintenance
Rather than waiting for a failure to occur, develop a preventative maintenance plan that includes regular service. For quick and easy maintenance, check with your pump manufacturer or local distributor for complete air side and wet side repair kits.
Filter and Regulate Compressed Air
Air leaving most compressors is warm, wet, dirty and often unregulated. The combination of dirty and unregulated air can damage and/or shorten the life of downstream equipment like AODD pumps.
To alleviate this issue, compressed air should be filtered and regulated. Clean, regulated air is the key to trouble-free pump operation. Filter regulators function both as a filter and pressure regulator, offering protection and precision control by removing solid and liquid contaminants while controlling the airflow. Filter regulators provide clean, controlled, consistent air pressure while reducing downtime and maintenance costs.
Install Pulsation Dampeners
All AODD pumps create pulsations of product fluid as they operate. Pulsation dampeners—also known as surge suppressors, surge dampeners and tranquilizers—are easily installed devices that provide pulsation-free flows, protecting your equipment and providing consistent downstream pressures.
Control Leaks
Production leaks can lead to downtime, lost revenue and, if you're working with aggressive fluids like those used in chemical processing, they can severely impact the health of your plant workers and damage the surrounding environment.
Leak detection devices allow you to monitor your AODD pump's diaphragm integrity through visual, electronic or mechanical leak detection systems. Leak detection products are beneficial and recommended when pumping hazardous or costly fluids.
Visual Leak Detection: Consists of clear sight tubs that allow you to accurately identify if a diaphragm is ruptured by simply inspecting the exterior of your pump.
Electronic Leak Detection: Allows you to remotely monitor your AODD pump's diaphragm integrity using a module and liquid sensors in the air chamber.
Mechanical Leak Detection: Consists of a pneumatic valve that will open when exposed to the liquid being pumped. When the valve opens, it uses air to create a signal, usually audible, to indicate a diaphragm leak.
Choose a Vendor You Can Rely On
All AODD pumps on the market aren't created equal.
As a leading AODD pump manufacturer of the toughest AODD pumps on the market, SANDPIPER is focused on improving your efficiency so you experience more uptime. Our team has developed time-saving technologies and techniques so you can perform necessary maintenance and get your pump back up and running in as little time as possible, minimizing downtime disruptions and costs.
We offer a variety of tools and AODD pump resources to support your AODD pump, from initial selection to troubleshooting and maintenance. Our exclusive externally serviceable air distribution system (ESADS+) air valve design ensures quick access to the most common part to fail on any AODD pump—which means it can be replaced in about five minutes, compared to 50 minutes on competitor pumps.
Our pumps can help support your unique, complex and rugged manufacturing needs while giving you the peace of mind that it will stand the test of time. Let our experienced engineers solve your maintenance, repair and performance issues quickly to keep your operations running smoothly and efficiently.