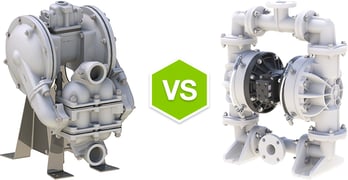 It's your job to keep plant employees safe and ensure the operation runs as smoothly as possible. That can be a difficult task with so many moving parts to account for. The last thing you should have to worry about is a chemical leaking from a pump, causing a safety hazard, or a pump failure shutting down the entire production line.
If you work in plant operations, there's a good chance you already know that air-operated double-diaphragm (AODD) pumps are an excellent choice for industrial applications due to their versatility, durability, and reliability, and that when it comes to pump selection, it's vital to ensure you always specify the right AODD pump for the right application.
The first consideration in your right pump/right application thought process should be the material the pump is made of. You have two options on the wet side: metallic or non-metallic. Within each of those material categories, there's a wide range of pumps available to suit your requirements.
The most important factor is selecting a pump that's chemically compatible with the material you're moving. Always refer to your pump manufacturer's chemical compatibility guide, or Chem Guide. It's also helpful to discuss your options with your local pump distributor or the manufacturer's application specialist.
When to Use Metallic AODD Pumps
Metallic pumps are available in clamped or bolted construction and are known for being rugged and durable. For that reason, they are commonly used in the oil and gas and chemical industries. Metallic pumps are available in stainless steel, Alloy C, aluminum, and cast iron options.
Metallic AODD pumps are ideal for moving abrasive materials and slurries, thanks to their robust, abrasion-resistant castings. Plant personnel also may choose metallic pumps when the pump requires grounding because metallic pumps are ATEX-compliant and designed for use in potentially explosive applications. They're also optimal for outdoor use because they aren't as sensitive to temperatures like non-metallic pumps may be, and they aren't affected by UV radiation.
As just one example, in the lithium carbonate extraction and drying process, the S30, SANDPIPER's 3", stainless steel metallic AODD pump, is a good fit because of the harsh environment and the fact that the material being pumped contains solids.
Metal is also the choice for high-pressure AODD pumps. High-pressure pumps are used in industries where pressures higher than 125 psi are needed, such as long runs of piping in mining applications.
Metallic AODD Pumps and Their Potential Uses
Material

Potential application

Stainless steel

Food and personal care, where FDA
compliance is necessary

Alloy C

Used in extreme cases of ultra-corrosive
material

Aluminum

Cost effective, robust option for general
industry

Cast iron

Utilized in very abrasive applications
When to Use Non-Metallic AODD Pumps
Non-metallic AODD pumps, which come in sturdy, bolted construction, offer a broad range of chemical compatibility. They are lightweight, making them portable, and are typically more cost-effective than metallic pumps.
Non-metallic AODD pumps are constructed from polypropylene, conductive polypropylene, conductive PVDF, and PVDF Kynar. They are used in a multitude of markets, including the chemical industry, water treatment, automotive service, inks and adhesives, and many more.
Although non-metallic AODD pumps may be used outdoors, they are more susceptible to damage if freezing occurs, working better indoors or in controlled environments. Additionally, they are not UV-stabilized, meaning the material can be negatively impacted by ultraviolet radiation. It's better if they're not exposed to direct sun for extended periods. Plus, ATEX-compliant, groundable pumps are available in several non-metallic conductive materials.
Non-Metallic AODD Pumps and Their Potential Uses
Material

Potential application

Polypropylene

Commonly used with aggressive caustic chemicals

Conductive
polypropylene

Similar chemical characteristics as standard polypropylene
but with added conductive filler for groundability

Conductive
PVDF

Used in harsh chemical applications where abrasives may
be present, can also be grounded for safety

PVDF Kynar

More robust and abrasive resistant than polypropylene,
used in harsh chemical applications
Now that you've read our comparison of metallic and non-metallic AODD pumps, you can consider other important factors in selecting the right AODD pump for your application, such as whether to use a flap valve or a ball valve pump.
Remember you can always reach out to your local SANDPIPER distributor to find out more about the wide range of pumps available and which ones would best suit your needs. SANDPIPER's metallic and non-metallic pumps have been the go-to technology in more than a dozen markets for more than five decades. Contact us to learn more.