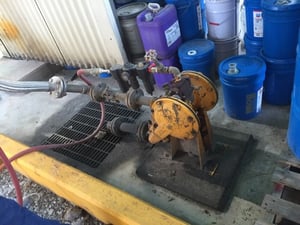 Industrial chemical pumps are designed and constructed out of materials that can withstand substances with varying levels of viscosity, corrosiveness and abrasiveness. These substances need pumps that will handle them efficiently without causing production stoppages or pump breakdowns.
Chemical manufacturers face enormous environmental, safety and cost issues.
Leaks during production can have severe health consequences for plant workers and surrounding environments


Chemicals are expensive to produce, leading to quality concerns and lost revenue if the end product is contaminated during production
Equipment for demanding chemical process applications can be extremely expensive with limited performance life


Production time is critical to maintain—this requires

quality equipment

that is

easy to repair

with

dependable service available
The variety of chemicals produced or used each year in manufacturing and treatment processes across the globe is staggering. The recipes for these chemical properties stretch from simple environmentally friendly compounds to highly toxic formulations requiring a massively diverse portfolio of products to address the complex range of needs. That includes pumps used for chemical processing and transferring.
Which Type of Pump Should You Choose for Chemical Processing and Transferring?
Before selecting a chemical pump, you need to have a solid grasp of the application requirements and chemical media properties, as well as the performance and size specifications to perform the task.
Materials of Construction
The number one consideration when selecting a pump is chemical compatibility. The materials used for the construction of the pump need to be compatible with the chemical media. Because corrosion is a major concern with many chemicals, it's important to select a pump manufactured from a material that is compatible with chemical media.
The two main categories of pump materials of construction to consider are:
Metal: durable and robust for abrasives and slurries


316 Stainless Steel
Alloy C
Aluminum
Cast iron



Non-Metallic: robust but lightweight design offering a broad range of chemical compatibility


Polypropylene
Acetal
Conductive Polypropylene
Conductive Acetal
Conductive PVDF
PVDF/Kynar
Nylon
Pump Sizing and Performance Specifications
Sizing a pump for the operating parameters involves matching the flow and pressure rating of a pump with the flow rate and pressure required for the process. The desired flow rate in gallons per minute (gpm) or liters per minute (lpm) is an important factor to consider when specifying a pump.
Air-operated double-diaphragm (AODD) pumps, for instance, can perform anywhere in the envelope of 0 to 280 gpm (1,060 lpm). This is achieved with a simple adjustment of the air pressure or discharge head, giving AODD pumps an advantage over other pump technologies where it may be difficult or impossible to have that much control over the flow rate.
Desire a higher flow rate? You'll need a larger pump with larger port sizes. The higher the flow rate, the faster your job gets done.
Reasons to Choose AODD Chemical Pumps Over Other Pumping Technologies
There are many pumps on the market for chemical applications, including: centrifugal, metering, lobe, gear, screw, hose and piston/plunger. It can be difficult to find the information you need to make the right choice.
The AODD pump, however, has proven itself as a market leader when it comes to reliability, versatility and ease of maintenance. Here are some additional benefits of AODD chemical pumps:
Versatility: AODD pumps typically range from ¼" (6 mm) to 3" (80 mm) porting with weights up to 245 lbs (111 kg). They can be run anywhere on their performance curve with an easy adjustment of air inlet pressure (0 to max)


No electricity: AODD pumps can be fully grounded for safe, reliable operation. Certified models (like ATEX or UL Listed) can be confirmed safe when properly grounded


Excellent chemical resistance: Many pumps are offered with wetted component materials made from stainless steel, Alloy C, cast iron, aluminum, polypropylene, PVDF and acetal. They can be fitted with FKM, PTFE, EPDM, Santoprene and nitrile materials so you can select a unit that meets your chemical needs


Wide viscosity range: AODD pumps can handle just about any fluid that can flow up to 90,000 cst (415,500 ssu) and can be specially fitted to achieve even more


Deadhead safely: Many other pumping technologies require special controls or circulation loops to allow for the pump to deadhead. AODD pumps are a great option for applications that are intermittent and require frequent deadheading. When the pressure on the fluid discharge equalizes with the air inlet pressure, the pump will stop pumping without damage
Commonly Used Chemical AODD Pump Applications
Processing: harsh abrasive materials like plastics, polymers, resins, glues, adhesives, pesticides, soaps, surfactants, cleaning products, acrylic acid, ammonia, sodium sulfide, paints, inks, coatings, petrochemicals, fertilizers, additives, lubricants, injection/blow molding


Safe transfer and mixing:

aggressive, high-risk or expensive chemical transfer, tank to tote transfer, mixing/blending/extruding applications requiring containment

Wastewater

:

sumps and pits, dewatering, filter press, containment and run-off areas, water purification, water treatment, slurry



Aggressive environmental conditions: dirty environmental air, explosive atmospheres, corrosive environments, temperature extremes, high suction lift requirements

Batching:

consistent delivery of uniformity across batch cycles, adaptable to a variety of batch recipes



Injection:

low solvent coatings transfer in dosing applications



Disinfectants: manufacturing of sanitizers and other disinfectants, including water triethanolamine, glycerol/glycerin and propylene glycol
AODD Pumps: The Right Choice for the Chemical Industry
AODD pumps are one of the safest and most effective options on the market today, making them the optimal choice for handling many chemicals.
For more than 55 years, SANDPIPER has been a market-leading AODD pump manufacturer. We offer continuous innovation and provide the broadest range of the most reliable and durable AODD pumps to support an extensive set of markets around the world.
For more information on our selection of chemical industry AODD pumps, reach out to one of our seasoned application engineers, contact a local distributor, or leave your question as a comment below.
Share your experiences using AODD pumps for chemical industry applications in the comments below