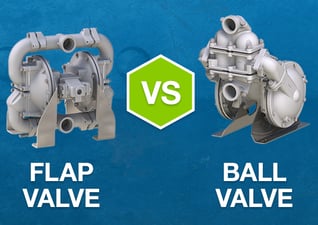 If you work in an industry with severe applications (such as mining, oil and gas, chemical, meat and poultry and wastewater) safety and reliability are likely top concerns for you.
One of the best ways to stay safe, and ensure reliability, is to provide your company with the best equipment for the job. This is especially important when it comes to
air-operated double-diaphragm (AODD) pumps
.
The safe and reliable performance of AODD pumps has made them a top choice for the most severe applications. That's because these double-diaphragm pumps offer advantages that are often unrivaled by other pumping technologies.
They don't require electricity: AODD pumps are powered by compressed air or natural gas, allowing for application versatility.
They are portable: Pumps can be fitted to carts or dollies and moved easily.
They can handle solids: Pumps fitted with flap check valves can easily pass up to line-size solids.
They can be fully grounded: If a pump has ATEX designation, it can be fully grounded via a provided strap.
They can run dry: AODD pumps are capable of running dry without damage to critical components.
They can deadhead safely: AODD pumps do not generate heat or require a recirculation valve when faced with a closed discharge.
When selecting an AODD pump for your severe application, you might ask yourself, "Would a heavy-duty flap valve AODD pump work well for my application, or do I need a heavy-duty ball valve pump?" This is a common question, which this blog will help answer.
Heavy-Duty Flap Valve AODD Pumps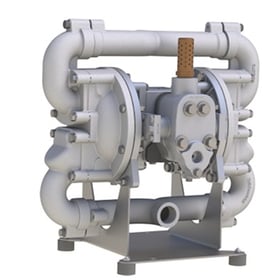 Heavy duty-flap valve pumps are the ideal solution for abrasive slurries, non-suspended and line-size solids requirements. These solids handling pumps are workhorses in markets like meat and poultry because of their unique ability to pass large solids that would commonly clog other pumps.
In fact, the SANDPIPER heavy-duty flap valve pump is known as the "blood pump" because it can easily transfer solids that would find their way into the blood collection areas.
Compared to AODD ball valve pumps and other rotating pump technologies, heavy-duty flap valve pumps are optimized to enhance performance and efficiency. They have:
The lowest air consumption in their class
No reduction in performance as the pump wears
Minimal flow velocity changes for superior handling of thick, viscous fluids
Perfect for Handling Line-Size Solids
Large flow area to allow up-to-line-size solids to pass directly through the pump
Bottom discharge design helps prevent these solids from settling in the unit
Eliminate common issues associated with ball valve pumps, where large solids get stuck in the suction manifold or small solids settle in the outer chamber, affecting performance
Quick Access to Serviceable Components
Removable Clean-Out Caps: By simply removing the six bolts securing the clean-out cap in place, you can access and clear simple clogs without disassembling the entire pump.
Modular Check Valve Access: With the clean-out cap removed, flap valves can be inspected and/or replaced as needed; four bolts hold the modular flap valves in place for quick maintenance and repair.
ESADS+Plus: Our signature ESADS+Plus (Externally Serviceable Air Distribution System) allows for the maintenance and/or repair of both pilot valve and air valve components without removing the pump from service.
Heavy-Duty Ball Valve AODD Pumps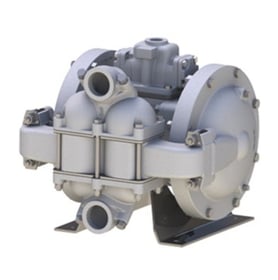 For fluids containing settling, suspended and floating solids, trust the performance and reliability of heavy-duty ball valve pumps and their exclusive features. These double-diaphragm pumps are ideal for thin to highly viscous and small solids-laden fluids. They're capable of providing excellent suction lift and exclusive variable porting options. Common applications where you can find heavy-duty ball valve AODD pumps include paints and coatings, aerospace, building products and construction, chemical, sanitary, transportation and much more.
Heavy-duty ball valve pumps feature thick-walled chambers and manifolds and are constructed of sand-casted aluminum, cast iron or stainless steel. Paired with chemically compatible elastomers, this allows for a robust pump designed for the most aggressive applications.
Multiple Porting Positions
Top Ported: For fluids containing floating solids, suspended solids or entrained gases. The discharge port is positioned above the center of the pump for easier evacuation and less buildup of solid material or gases. In addition, top-ported units work exceptionally well with thick viscous fluids such as glues and adhesives.
Down Ported: For fluids containing settling solids. The discharge port is positioned below the center of the pump so solids settle in the elbow and are easily discharged. This helps reduce wear on the diaphragms and associated components. Traditional AODD pumps work against gravity to evacuate settling solids.
Side Ported: For use in tight spaces. The ports are positioned with the center of the pump, allowing for installation in smaller, confined areas. This design allows for installation options while still providing the added benefits of a heavy-duty pump.
Heavy-Duty Wear Parts
Heavy-duty plunger bushings and actuator pins are designed to withstand severe applications requiring on-off reliability.
Diaphragm wear pads are installed between the diaphragm and outer diaphragm plate, providing a secondary wear surface that extends the life of the diaphragm. This is helpful when moving abrasive fluids.
Thicker, more robust wetted castings provide extended wear resistance.
Heavy-duty weighted check valve balls are 30–60% heavier than solid rubber check balls, allowing for more consistent chamber filling when pumping more viscous products.
AODD Pumps for Your Most Severe Applications
Even in the most severe applications and environments, the SANDPIPER Signature Series™ of AODD pumps (heavy-duty flap, heavy-duty ball and containment-duty pumps) are engineered to provide industry-leading durability and performance.
SANDPIPER's patented exclusive externally serviceable air distribution system (ESADS+) allows for complete access to the main air and pilot valves without removing the pump from service. Many of SANDPIPER's heavy-duty pumps also come with an extended-wear package that features multiple porting options, heavy-duty plunger bushings/actuator pins, diaphragm wear pads, thicker wetted castings and heavy-duty weighted check valve balls.
Our exclusive designs prevent leaks, allow pumps to be configured in a variety of ways, make maintenance quick and easy and are durable and high-pressure-capable due to their all-bolted construction.
If you have questions about any of our heavy-duty double-diaphragm pumps, contact us today or reach out to a local distributor.