When considering your pump needs, the choices are virtually endless. The importance of your pump selection is high and your time is valuable. You shouldn't have to spend it Googling "industrial pumps" and trying to whittle down the many options that come up in search.
Selecting the type of pump can be simplified if you know a few key things:
Your application:
What type of fluid will you be pumping?
Your environment:
Will the pump be submerged or exposed to extreme temperatures?
Is the fluid being pumped toxic or explosive?
Your sizing/porting requirements:
What is the desired flow rate?
What is the port size and connection type you will be using?
Your maintenance capabilities:
Do you prefer to replace the pump rather than repair it?
Your budget:
Does your budget permit you to buy several pumps, or will you use one pump for various pumping applications?
One Pump Type Combines Versatility and Reliability
Though there are many types of pumps—including positive displacement, centrifugal, lobe, gear, screw, hose and piston/plunger—there is one option that combines versatility with reliability.
A hybrid displacement pump, known as an air-operated double-diaphragm (AODD) pump should be considered in your pump selection process. This type of pump requires little maintenance and can handle a vast variety of fluids in the harshest of environments.
AODD Pump Features & Advantages
AODD pumps defy classification. In terms of pressure versus capacity characteristics, as well as portability, they resemble a centrifugal pump. The similarities end there.
AODD pumps are powered by air (some models are also offered with natural gas capability), which keeps the pump diaphragm balanced while pumping. This extends diaphragm life over that of mechanically operated diaphragm pumps, which means low maintenance and less downtime.
In addition to requiring little maintenance compared to other pump types, AODD pumps offer many other benefits. They:
Require no electricity and can be fully grounded to ensure safe operation of the pump.
Pump solid-laden fluids without damaging the pump or the product.
Are self-priming and can dry-run.
Can be run in continuous or intermittent cycles without damaging the pump or the system.
Have a low initial purchase price and require no additional setup controls, making them a great value compared to other pumping technologies.
Deadhead safely with no pump or product damage and seamless restarting.
Are shear sensitive.
Are submersible (some models); they can be submerged completely without safety or performance issues.
Have a seal-less design and require no expensive mechanical seals or packing.
Offer variable flow and head pressures and perform without sophisticated controls.
Have a variety of porting options, including bottom discharge to address a wide range of fluid characteristics.
AODD Pump Applications
The versatility of AODD pumps allows them to be used in a multitude of markets, including:
Aerospace
Automotive
Building products
Ceramics
Chemical coatings and paint
Construction
Food and beverage
Marine
Mining
Packaging
Pharmaceutical and personal care
Pulp and paper
Oil and gas
Wastewater
Comparing AODD Pumps Against Other Industrial Pump Types
A pump that fails to meet your application or environmental requirements can have a devastating effect on your business. You can experience leaks, loss of flow, unplanned downtime, lost revenue, safety risks for your employees and even environmental issues if fluid escapes your facility.
Because pumps are vital to keeping your systems running properly, it's crucial that you select the type that best meets your needs.
The chart below helps break down common application requirements and pump types: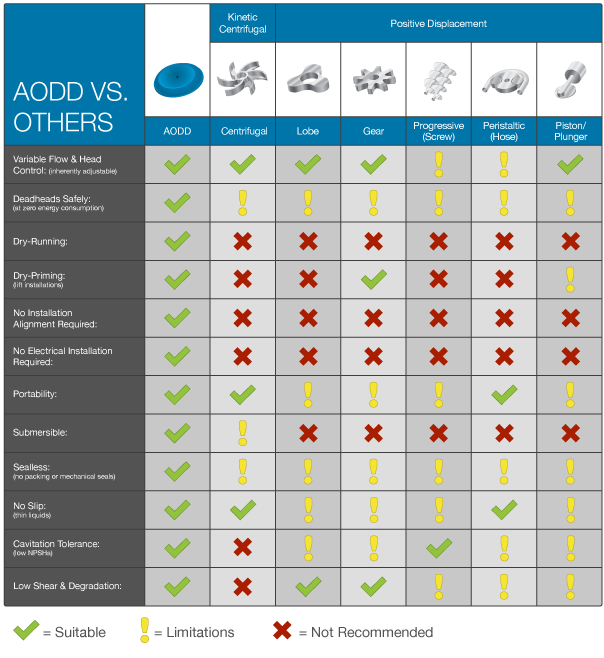 Choose The Best Pump For Your Application
Now that you have compared pump types to your application needs, you're ready to make a decision. Need more pump selection help? In many cases, one pump type stands above the rest, offering unique benefits unrivaled by other pump technologies: the AODD pump.
AODD pump technology consistently delivers reliability and versatility for businesses across a wide range of applications and markets. These pumps require little maintenance and are cost-effective solutions for pumping everything from excess water removal to abrasive slurries and solids.
For more than 55 years, SANDPIPER has been a premium AODD pump manufacturer, offering the broadest range of AODD product options that address a wide variety of pumping applications. SANDPIPER's AODD portfolio offers many unique options, which can be configured to meet your most challenging application needs. For example, our SANDPIPER Heavy-Duty Signature Series Ball and Flap Valve options can be configured to provide best-in-class handling of chemical compositions and viscosities of even the harshest or most abrasive fluids, including thick sludges and slurries.
With SANDPIPER pumps, you get the broadest safety certifications and the best performance guarantee in the industry. You also get our exclusive externally serviceable air distribution system (ESADS), which allows you to complete routine maintenance and cleaning in five minutes (compared to 55 minutes or longer for other AODD pumps).
Decades of innovation and world-class engineering expertise allow the SANDPIPER team to offer off-the-shelf pumps, as well as customized solutions. Outstanding after-sales support provides you peace of mind with AODD pump resources ready to help keep your systems running as efficiently as possible and limiting downtime through the life of your pump.
If you have any questions about SANDPIPER'S pumping solutions, contact us today, find the closest distributor, or leave your question as a comment below.
Have tips for how to choose the right best pumps for specific applications? Share them in the comments