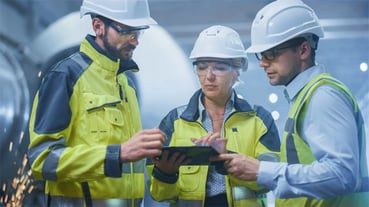 Whether you're in plant maintenance, purchasing, or operations, if you're in the market for an air-operated double-diaphragm (AODD) pump, it's easy to get lost in the industry jargon. Even experienced process engineers may need a refresher on all of the acronyms, abbreviations, initialisms, and other terms surrounding AODD pumps.
This blog post is your guide. Bookmark it and return as often as needed to ensure you're speaking the same language as your team members, distributors, and AODD pump manufacturers.
AODD
Air-operated double-diaphragm
Semi-displacement pump used in many applications, driven by compressed air.
ESADS+
Externally Serviceable Air Distribution System
Feature that allows for easy access to a pump's pilot valve and main air valve providing quick and easy serviceability.
GPM
Gallons per minute
Expression of flow rate, an important factor when specifying a pump.
LPM
Liters per minute
Expression of flow rate, an important factor when specifying a pump.
CFM / SCFM
Cubic feet per minute / Standard cubic feet per minute
A measure of volume of compressed air a compressor is capable of generating. Also referred to as SCFM (standard cubic feet per minute).
PSI
Pounds per square inch
A measure of air pressure a compressor is capable of generating.
NPSH
Net positive suction head
A measure of the pressure coming into the pump.
NPSHa
Net positive suction head available
The pressure at the pump's inlet. Can be altered based on your system.
NPSHr
Net positive suction head required
Value required to produce the desired flow.
CFD
Computational Fluid Dynamics
A type of computer-aided engineering that allows users to simulate fluid motion.
HDF
Heavy-duty flap
Pumps that can handle line-size solids without clogging. Top suction bottom discharge.
HDB
Heavy-duty ball
Pumps that can handle a range of viscous and small solid-laden fluids with exceptional suction lift capabilities.
CDB
Containment-duty ball
Pumps designed for leak avoidance with excellent performance in harsh chemical environments.
PTFE
Polytetrafluoroethylene
Also known as Teflon, a highly chemical-resistant option for AODD pump materials, such as diaphragms.
AFR
Air filter / regulator
An accessory that removes solid and liquid contaminants to increase the service life of AODD pumps and other air system components.
FDA
Food and Drug Administration
The U.S. federal agency that regulates many food products. Pumps and components used in food and beverage production must comply with the FDA's Code of Federal Regulations (CFR) Title 21 Part 177.
3-A
Sanitary Standards
Specifications for the design and fabrication of equipment that comes into contact with food.
CE
European Conformity
Logo indicating a product conforms with European health, safety, and environmental protection standards. Required for goods sold in the European Economic Area.
EX or ATEX
Atmosphères Explosives
Minimum safety requirements for workplaces and equipment used in explosive atmospheres in the European Union and elsewhere.
OSHA
Occupational Safety and Health Administration
U.S. regulatory agency tasked with ensuring worker safety by setting and enforcing standards, and by providing training, outreach, education, and assistance.
CIP
Clean-in-place
Commonly used in food applications where product needs to be flushed after each run.
SG
Specific gravity
A ratio of the density of a substance to the density of a reference material. Also known as relative density.
SSU
Saybolt Universal Seconds
A measure of viscosity defined by the time taken for 60 ml of a liquid to flow through a viscometer.
cP
Centipoise
A unit of viscosity equal to one one hundredth of a poise. May also be seen as cps, cp, and cPs.
EODD
Electric-operated double-diaphragm
Type of diaphragm pump operated by an electric motor.
PVDF
Polyvinylidene fluoride
Also known as Kynar, another highly chemical-resistant option for pump materials.
NPT
National pipe thread
U.S. national technical standards for screw threads used on threaded pipes and pipe fittings.
BSP
British Standard Pipe thread
Technical standards for screw threads used on threaded pipes and pipe fittings internationally.
dB
Decibel
A unit for measuring the relative loudness of sound.
TCO
Total cost of ownership
Estimate used to help buyers determine the direct or indirect costs of a product or service, including operating costs.
TAM
Total available market
A measure of a business opportunity if 100 percent market share were achieved. Also known as total addressable market.
If you're still puzzled by some of the nuances of AODD pump terminology, refer to SANDPIPER'S "Answers to Your Most Frequently Asked AODD Pump Questions" blog, our blog post on "Flap Valve vs. Ball Valve AODD Pumps," and our extensive resources library. Or you can simply contact us to answer your questions or help solve your AODD pumping problem.