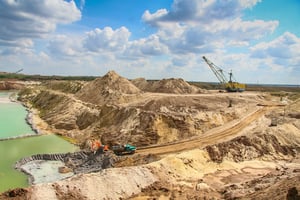 If you work in industries that rely on water purification and waste contamination management, or in those with severe applications, like mining and oil and gas, your top concerns are safety and reliability.
Keeping workers and the environment safe is a leading priority in industries where hazardous and flammable liquids are continually flowing. Companies invest in extensive training for workers, follow strict federal guidelines and have detailed emergency response plans ready to go.
Having equipment you can trust is critical when job sites may be in remote locations or even offshore. Equipment that fails means downtime. And downtime means lost revenue.
One of the best ways to stay safe and ensure reliability is to provide your company with the best equipment for the job. This is especially important when it comes to air-operated double-diaphragm (AODD) pumps.
Why Choose AODD Pumps for Severe Applications
The reliability of AODD pumps has made them a top choice for the most severe applications. They safely and easily handle the harshest fluids in the toughest environments and have many benefits:
They don't require electricity—AODD pumps are powered by compressed air or natural gas.
They're portable.
They can handle line-size solids.
They can be fully grounded.
When it comes to tackling the most difficult industrial challenges, AODD pumps are the right choice.
Which AODD Pumps Should You Use for Severe Applications—and Why
Heavy-duty flap valve pumps: They can handle fluids containing up to line-size solids.
Heavy-duty ball valve pumps: They can handle fluids containing settling, suspended and floating solids.
Containment-duty pumps: They're designed to monitor and contain leaks.
Standard-duty pumps: They're able to handle general-purpose applications reliably and consistently with a wide range of pumping options.
High-pressure pumps: They provide double the air pressure available in applications where pressure is paramount without sacrificing flow rate.
Sump pumps: They're designed to be portable and versatile, with sturdy construction for handling mud, leaves, twigs, sand, sludge, trash-laden water and soft solids.
UL Listed pumps: They're designed to meet Underwriters Laboratory (UL) standards for diaphragm pumps handling flammable liquids.
Why Use AODD Pumps for Water Purification and Waste Contamination Management
Handling wastewater means expecting the unexpected. Incoming water contains everything from grease to plastics to chemicals, wood, rocks and even dead animals.
Pumps need to be able to handle a wide variety of fluids, as well as solids-laden materials and stringy particles. In this critical application, pumps must also prevent leaks and hazardous chemical exposure to public water or workers handling dangerous materials.
Some commonly used AODD pump wastewater applications are:
Filter press: Clean water for reuse, belt press feed and wastewater solids handling.
Municipal utility: Use for dewatering and solids handling.
Wastewater: Use to contain spills and for grit and scum removal.
Sludge removal: Handle a wide range of content, including thickened/clarified/digested sludge and waste- or return-activated sludge (WAS/RAS).
The following SANDPIPER pumps are perfect for water purification and waste contamination management:
Why Use AODD Pumps for Oil and Gas Industry Applications
AODD pumps are an integral part of both upstream and midstream markets because they are:
Resistant to chemicals: They safely handle highly corrosive and toxic chemicals encountered when drilling.
Able to prevent leaks: Each has a seal-less design that helps prevent leakage.
Able to pump large volumes of liquid: This makes them ideal for refineries that process vast amounts of oil.
Simple in design: Having fewer moving parts than other pumps, they're more durable and less likely to fail.
Easy to maintain: The fact that they require minimal maintenance makes them perfect for remote drilling locations.
Sometimes referred to as "double diaphragm oil transfer pumps" or "natural gas diaphragm pumps" in this industry, AODD pumps are often used in these essential midstream applications:
Compression skid
Lube oil transfer
Glycol transfer
Sump
Flare knockout
Tank bottom recirculation
Offshore or onshore, upstream or midstream, AODD pumps need to be durable enough for harsh drilling conditions and reliable so they're ready to work when oil or gas begins to flow.
The following SANDPIPER AODD pumps are perfect for oil and gas applications:
Why Use AODD Pumps for Mining Industry Applications
Extracting minerals and metals from deep within the ground poses many risks, which is why miners need to be able to trust their equipment to get the job done right and get it done safely.
AODD mining pumps offer the extreme durability needed for the mining industry because they are:
Lightweight: Their construction makes them highly portable.
Versatile: Their base mounting options allow them to be used throughout the job site.
Able to prevent leaks: Each has a seal-less design that helps prevent leakage.
Able to handle high flow rates: This means they can rapidly remove fluids or dewater areas.
AODD mining pumps are ideal for the following mining applications:
Water evacuation
Lagoon sludges
Belt head cleanup dewatering
Mine face dewatering
Drift dewatering
Muck/slime/slurry
The following SANDPIPER AODD pumps are perfect for mining applications:
The Best Pumps for the Toughest Jobs
Choosing the right pump manufacturer is as important as picking the best pump for your application. You want to choose a company that values safety and makes products you can depend on..
SANDPIPER is a leading AODD pump manufacturer with a 50+-year history of providing safe, reliable equipment for the most severe applications.
Many of SANDPIPER's heavy-duty pumps come with an extended-wear package that features multiple porting options, heavy-duty plunger bushings/actuator pins, diaphragm wear pads, thicker wetted castings and heavy-duty weighted check valve balls.
Our exclusive designs prevent leaks, allow pumps to be configured in a variety of ways, make maintenance quick and easy, and are durable and high-pressure-capable due to their all-bolted construction.
SANDPIPER'S technology also:
Offers bottom discharge porting: This provides superior suction lift and eliminates the damage caused by settling solids.
Handles solids: In the range of 1" (25mm) to 3" (76mm) and dry prime of up to 24 ft. (7 m) of water.
Offers best-in-class max flow rates: This allows you to get your work done faster.
Provides air economy: Our metallic standard-duty pumps provide up to 2.5 times more gallons out for every cubic foot of air supplied.

Offers the lowest air consumption:

SANDPIPER's S30 pump requires up to 56% less air to operate, reducing the load on your compressed air system and lowering operating costs.
Provides annual savings: Our metallic standard-duty pumps can save you up to $3,543 in annual operating costs.
If you have questions about any of our industry-leading pumping solutions, contact us today, reach out to a local distributor, or leave your question as a comment below.
Share your experiences using AODD pumps for severe applications in the comments below.