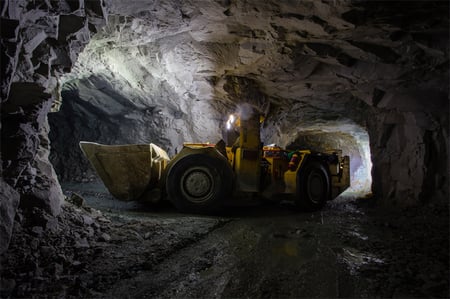 If you work in the mining industry, you know the value of pumps and that it would be impossible to do your job without them. Air-operated double-diaphragm (AODD) pumps are no exception.
From coal mining to hard rock, AODD pumps are critical pieces of mining equipment used in a wide range of applications to keep mining processes productive and safe.
AODD pumps are used in virtually all forms of mining, including underground, open-pit, dredging, and in-situ processes used for coal, soft/hard rock, precious metals (e.g., nickel, copper, gold, silver), phosphate, and diamond. Of the four types of mining, underground uses the most AODD pumps, but all utilize these pumps regularly. From the slope to the drift, or the face, you will find mining pumps working to keep miners safe.
Popular Mining Applications Where AODD Pumps Are Commonly Used
Dewatering: When mining underground, water will travel to the lowest point. AODD pumps are used to move this water to a central basin where it is then pumped above ground for treatment. Common locations for dewatering would include: drift dewatering, face dewatering under the drilling equipment, mud and muck pumping, and belt dewatering.
Fuels and Lubricants: To keep vehicles and heavy machinery running properly, oil, fuels, and lubricants need to be used. AODD pumps are commonly used to move these fluids safely and efficiently.
Refining, Smelting, and Milling Process: Once the ore-laden rock has been removed from the mine, it makes its way to the mill where it will be ground to a slurry. After grinding, depending on the material, a chemical will be introduced to the slurry which helps in the removal of the ore via a froth flotation cell. Water from the holding ponds can also be used in the refining process when needed, reutilizing this resource before or after treatment.
10 Advantages of AODD Pumps in the Mining Sector
Extracting minerals and metals from deep within the ground poses many risks, which is why miners need to be able to trust their equipment to get the job done safely. AODD mining pumps offer the extreme durability needed for the mining industry because they:
1. Can Run Dry
AODD pumps will not be damaged if they run dry intermittently. With no mechanical seals to fail, pumps running dry are very common, especially in sump dewatering and tanker unloading applications.
2. Can Handle Solids
AODD pumps can pass solids without damage to the pumps. Ball valve units can handle solids up to nearly 0.75" (19 mm) in diameter, while flap valve units can pass nearly line-sized semi-solids.
3. Run Off Compressed Air
AODD pumps require no electricity and can be grounded for safe, reliable operation in explosive environments. This is critical when pumping flammable liquids or when a pump is in an environment where fumes are present.
4. Have a Sealless Design
AODD pumps do not use or require expensive mechanical seals to operate. Instead, reciprocating elastomeric diaphragms and valve checks pull product into the pump then push it out, causing a pumping motion. This concept is extremely forgiving, requiring no balancing or critical alignment.
5. Are Versatile
AODD pumps are known for their versatility and ability to withstand the harshest environments and applications, especially mining operations. An AODD pump's base mounting options allow it to be used throughout the job site.
6. Are Portable
Because they only require compressed air to operate, AODD pumps can be easily moved. Carts are commonly used to move the pumps from job to job.
7. Are Ruggedly Designed
AODD pumps are proven to survive beyond intended handling when tossed, dragged, and crammed into position to rapidly remove fluids or dewater areas.
8. Are Submersible
AODD pumps can be submerged completely and safely with no performance issues. It is important to note that when submerging an AODD pump, you need to pipe the exhaust above liquid level.
9. Can Handle Variable Pressures and Flow Rates
With flow rates of up to 280 gpm (1,060 lpm), AODD pumps provide a wide range of flows without costly, sophisticated controls. Standard 1:1 ratio AODD pumps can produce pressures up to 125 psi (8.6 bar). Other ratios, such as 2:1 high-pressure units that can produce pressures up to 240 psi (16.5 bar), are available.
10. Are Easy to Repair
AODD pumps are very simple by design and can easily be repaired on location without extensive training or the need for sophisticated tools. When underground, AODD pump repairs can be made in place as opposed to taking pumps above ground, saving time and money.
AODD Pumps for the Most Demanding Mining Application
For over 55 years, SANDPIPER, a Warren Rupp, Inc. brand, has been a leading global AODD pump manufacturer, featuring the broadest range of products to meet the needs of various mining applications. Our AODD pumps feature best-in-class flap and ball valve configurations to pump in the toughest conditions
When durability and reliability are paramount in the rigorous environments of today's mines and construction sites, our pumps deliver the rugged performance needed. These pumps are designed to be tossed, dragged, and crammed into position to get the fluids you need removed in a hurry.
If you have any questions about our AODD mining pumps, please reach out to one of our seasoned application engineers. You can also contact a local distributor to find a pumping solution that's backed by superior quality and workmanship.