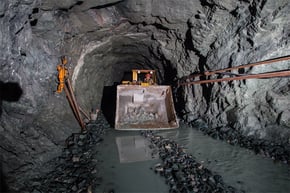 Air-operated double-diaphragm (AODD) pumps are designed to keep mining processes productive and safe. If your pumps are failing to perform well in mining applications, there are a handful of reasons they aren't delivering.
The five primary reasons your pumps are failing or aren't performing well are:
Let's take a look at why each of these factors may be a problem in mining and what you should consider if you're specifying mining pumps in the future.
1. Your Pump Can't Run Dry
The availability of water in a mine varies. Your pump may be submerged in several feet of water at a given time, but once it does its job, the area may be nearly dry. In many mine settings, there are not always personnel to watch the pump. This is a problem if you have a pump that can't run dry or doesn't feature a float switch.
AODD pumps can run dry for extended periods of time without getting damaged. Not all pumps can do the same. For example, an electric submersible pump has a mechanical seal, which can get hot and fail in the absence of liquid. An overheated, failed pump may cause safety hazards in addition to downtime and maintenance expenses related to premature seal replacement and more.
In addition to switching to an AODD pump, which can run dry without becoming damaged, you may want to reconsider the size of your pump. If you have a pump with too much volume, there are more chances for your pump to run dry than if you have a smaller pump, which pumps slower and could give you more time to react.
2. Your Pump Isn't Portable Enough
Pump portability is often a high priority in mining. In coal mining, in particular, you're always on the move and you're likely constrained by space, meaning you don't have the luxury of equipment to transport a heavy pump with you.
Non-metallic AODD pumps are a popular option for mining due to their ergonomic designs that feature handles. They are also typically lightweight. Electric pumps are inherently heavier due to their motors.
Additionally, diaphragm pumps are air-operated, which makes them even easier to move around. You can carry them from one location to the next, then quickly reconnect the air lines. You don't need electric cables or an electrician or technician on-site to set them up like you would with an electric submersible pump.
3. Your Pump Can't Handle a Wide Range of pH Levels
Chemical compatibility is a primary consideration for anyone operating a pump, and it's no different in coal, hard rock, or other types of mining where acidic seepage water is a common concern. If you don't have the right chemical compatibility, your pump castings may corrode, get brittle, and break, leading to increased maintenance costs and downtime.
When in doubt, be sure to test your pH ranges and ensure your pump material is compatible with it. Non-metallic or polypropylene options ensure you have an affordable, lightweight pump with a broad range of chemical resistance.
SANDPIPER pumps are made to work reliably and with a variety of materials, making them the best choice for working in extreme environments.
4. Your Pump Can't Handle Variable Flow Rates & Pressures
As discussed above, the water volume in a mine is variable and depends on many factors. For instance, if a mine is shut down for the weekend, you may have a shaft full of water to move on Monday morning, whereas the rest of the time the area may be mostly dry. In either case, it's beneficial to have the ability to run the pump slower or faster based on your needs, allowing you to save on air consumption and energy costs when possible
With an electric pump, there is often no room for variability or no way to dial the flow up or down without expensive additional equipment. AODD pumps, on the other hand, allow you to control the flow by varying the air pressure or closing the discharge valve—no expensive control equipment needed.
When specifying a pump, you may want to consider your flow rate and timing requirements. Historically, what is the required flow rate? And how much time do you have to pump out an area? If time isn't an issue, you may be able to use a small pump. If you need to pump out water quickly, you will need a larger pump. Hose sizes and infrastructure are another consideration. It's best to match your hose sizes to your pump size for optimal efficiency.
AODD pumps can also overcome significant head pressures better than many other pump types. The pressure on the discharge side of the pump may cause the pump to shut down until the pressure is relieved. An electrical pump will continue to spin, and will likely overheat and may damage the casting, leading to inconvenient downtime and repair or replacement costs.
Not sure what you need? Working with one of our trusted distributors will help ensure your pumps are operating at the top of the operational efficiency bell curve instead of the edges, leaving you with the right pump for your needs.
5. Your Pump Isn't Versatile Enough
Mining often requires pumps that can pass large solids and slurries. AODD pumps, especially flap valve pumps, can handle these conditions with ease, adding to their versatility.
Many other pump styles are designed for clean liquids only and will clog up and shut down if they meet solids or slurries. This situation may require a person to physically remove the pump from the mine and switch it out, which can be costly in terms of manpower and equipment. Moving heavy pumps to a workshop or potentially to the surface for repair may also create worker safety hazards.
In mining, you must be nimble. You may go from needing to hang your pump on the wall to submerging it in a small pit or pool of water. AODD pumps are versatile enough to handle both of these situations and many uses in between.
To dig deeper into why your mining pumps aren't working well or learn more about the benefits of AODD pumps in mining applications, download our mining whitepaper. Alternately, you can contact the experts at SANDPIPER with questions.