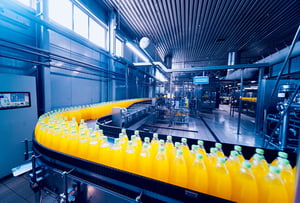 Maintaining hygienic processing conditions and preventing contamination are perhaps two of the biggest priorities during food and beverage processing operations. Food that is not handled properly or becomes contaminated can have a detrimental effect throughout the supply chain.
You can experience leaks, loss of flow, unplanned downtime, lost revenue, safety risks for your employees and even environmental issues if fluid escapes the designated areas around your lines. To achieve and maintain hygienic conditions and prevent contamination, the food and beverage industry employs a wide range of pumps for various processing applications.
Pumps are some of the most important pieces of equipment in food and beverage processing. Along with having to handle both low- and high-viscosity fluids, pumps used in the food and beverage industry must provide solutions to these processing challenges:
Handling a broad temperature range
Managing routine cleaning/sanitization
Ensuring hygiene and protection from contamination
Accomplishing loading, unloading and transferring functions
Complying with U.S. Food and Drug Administration (FDA) guidelines as well as other international certifications such as EC 1935
CHOOSING THE RIGHT PUMP
Choosing the right pump for food and beverage processing is critical and requires careful consideration. While there are many different pump types and properties, the diverse capabilities of an air-operated double-diaphragm (AODD) pump make it a popular choice for the food and beverage industry.

WHY AODD PUMPS FOR FOOD AND BEVERAGE PROCESSING?
Air-operated double diaphragm (AODD) pumps are known for reliability, safety and simplicity in fluids, slurries and solids-laden transfers, making this type of pump ideal for food and beverage processing. AODD pumps:
Run dry without damaging the pump or system
Pump solids-laden fluids without pump or product damage
Are self-priming and can dry-run
Deadhead safely with no pump or product damage and seamless restarting
Do not shear or separate the product being pumped
Require no electricity and can be fully grounded to ensure safe operation of the pump
Have a low initial purchase price and require no additional setup controls, making them a great value compared to other pumping technologies
Can be submerged completely without safety or performance issues
Have a seal-less design and require no expensive mechanical seals or packing
Offer variable flow and head pressures and perform without sophisticated controls
Can be run in continuous or intermittent cycles without damaging the pump or the system
Have a variety of porting options, including bottom discharge to address a wide range of fluid characteristics
Because pumps are crucial to keeping your food and beverage processing systems running properly, it's important that you select the type that best meets your needs. Regardless of whether a pump is a food-grade air diaphragm pump or a centrifugal pump, for food and beverage applications, it must:
BE FDA-COMPLIANT
The materials that make up a pump are key to ensuring the pump is FDA-compliant. Because the FDA regulates many food products, all pump components must comply with the FDA's Code of Federal Regulations (CFR) Title 21 Part 177 for materials that come in contact with food and beverages. Santoprene, Polytetrafluoroethylene or Teflon (PTFE) and stainless steel are several popular options for FDA-compliant food processing AODD pumps. For a superior surface finish, some manufacturers offer additional mechanically polished and electropolished stainless steel materials.
PROVIDE OPTIONS FOR LEAK DETECTION
When pumping costly fluids like those used in the food and beverage industry (i.e., sauces, oils, beer, wine), leak detection products are beneficial because they allow you to monitor your pump's diaphragm integrity through visual, electronic or mechanical leak detection systems.
Visual Leak Detection: Allows you to accurately identify if a diaphragm is ruptured by simply inspecting the exterior of your pump
Electronic Leak Detection: Allows you to remotely monitor your pump's diaphragm integrity using a modular control and two detection probes
Mechanical Leak Detection: Consists of a pneumatic valve that opens in the event of a diaphragm failure, which in turn activates a customer-supplied solenoid signal (or similar device)
BE CONSTRUCTED FOR THE TASK AT HAND
AODD pumps used in Food and Beverage applications are constructed by either clamping or bolting the mating parts together. If your food and beverage processing pumps are part of a batch process like salsa or barbeque sauce requiring regular and frequent equipment tear-downs for cleaning and sanitation, then clamped construction pumps are ideal as it typically takes less time to take apart, clean, and re-build. If your process takes much longer and equipment is not torn frequently such as a winery fermentation and pump-over process, then bolted pumps may be more ideal as bolted construction pumps are generally more robust and leak-tight over a long period of time.
OFFER BOTTOM DISCHARGE PORTING
Most AODD pumps have discharge ports on top of the pump so any fluids containing settling solids struggle to pass through and can remain stuck inside. Bottom discharge porting can help eliminate damage and frequent maintenance caused by solids settling in your pump as gravity assists with helping the fluid pass through. Other porting options or check valve types may provide you with improved suction lift. When choosing an AODD pump manufacturer, choose one that has experienced application engineers on staff to help you determine the best pump size and porting configuration for your application. Not only will this increase your pump's performance life and efficiency, but it'll also save you time and money.
NEED A PUMP FOR YOUR FOOD AND BEVERAGE OPERATIONS?
Now that you know which features pumps must have for food and beverage applications, find the right pump for your project. Whether your application includes food filling and packaging, product batching and transfer, recirculation and fermentation pump-overs, SANDPIPER's food-grade AODD pumps are here to help.
We're capable of providing pumping solutions for the food and beverage industry with high-quality, cost-effective products backed by best-in-class warranties and certifications, including 3-A, FDA and the EC 1935/2004 Food Contact Materials Standard.
For more information on our selection of AODD pumps for the food and beverage industry, visit our pumps page or find a distributor today.