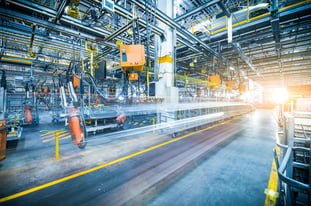 In manufacturing, unplanned downtime equals lost revenue and should be avoided at all costs.
One way to help prevent downtime in your plant is to use air-operated double-diaphragm (AODD) pumps as they're uniquely designed to reliably pump virtually any liquid to keep your systems working.
There are always ways, however, to make your plant's systems even more efficient and dependable. One of the easiest is to choose a diaphragm pump manufacturer that will be a dedicated partner in making sure your AODD pumps are performing at the highest levels possible.
What You Should Look for in a DiAphragm Pump Manufacturer
AODD pump manufacturers aren't all equal. You want to choose a manufacturer with a long history of AODD pump expertise that has the following:
A Broad Range of Pump Sizes, Types and Models
Each application calls for different requirements. For example, you likely wouldn't use the same pump in the wastewater treatment industry as you would in the pharmaceutical industry. Also, different porting options can make installation easy and problem solving designs can lengthen the lifespan of your pump. In short, you want a diaphragm pump manufacturer that makes a variety of pumps so you can perfectly match the pump to your application.
Custom-Engineered Systems
Some applications require customized systems. You need a diaphragm pump manufacturer with the engineering expertise and experience to handle designing and building a custom pumping system.
A Chemical Compatibility Guide
Some chemicals require your pump be constructed of specific materials. For example, non-metallic construction usually works best when pumping chemicals. Reputable manufacturers will offer a chemical compatibility guide to ensure you pick the right pump to meet your needs.
Quality Assurance
Choose a diaphragm pump manufacturer that tests its products to ensure quality. Each pump should be tested thoroughly before an order is fulfilled.
An Eye for Innovation
Make sure your diaphragm pump manufacturer is keeping up to date on industry best practices and staying ahead of the curve. This is especially helpful when looking to save money on energy costs, as innovative pump manufacturers always focus on efficiency.
Expert Technical and After-Sale Support
Chances are, you're going to need help before and after purchasing a pump. AODD pump manufacturers should employ expert engineers who help you size and select your pump. They should ask questions that zero in on your application requirements so you get the right pump the first time. Technical specialists should be available to assist with any issues you encounter after your pump has been installed. Not only can these specialists help solve any pumping problems, but they can also help ensure your pump operates efficiently.
Pumps That Are Easy to Maintain
The right AODD pump manufacturer should offer products that are not only reliable, but can be fixed easily and quickly so that you experience little to no downtime.
Quality Parts and Accessories
Though AODD pumps are incredibly reliable and versatile by nature, manufacturers should offer a full line of parts, options and accessories to make their products even more efficient.
Certifications and Warranties
Some industries require that pumps meet certain certifications. For example, some markets require UL Listing Certification and 3-A sanitary standards. Certification requirements differ around the world. Europe, for example, requires pumps to comply with European Community Directive 2006/42/EC on Machinery. Make sure your manufacturer offers a wide variety of certifications—this will save you time and money.
A reputable AODD pump manufacturer will also stand by their products with product warranties.
Choosing the Right AODD Pump Manufacturer
Some AODD pump manufacturers may offer some of the above, but few will offer all of them.
For over 50 years, SANDPIPER has been a leading global AODD pump manufacturer of products with industry-leading flow rates, suction lift, air efficiency and displacement per stroke.
We can meet all your pumping needs both before your purchase and throughout the life of your pump:
Before Purchase
Expert support: Experienced application engineers help you determine the best pump size for your application—custom-designed systems are available.
Quality tests: After the pump assembly process, we conduct a full scope of tests before your pump is shipped.
Chemical compatibility guide: Our guide is always readily available online and through our mobile app.
Certifications: We have more than 15 certifications used by industries across the globe.
After Purchase
Quality parts and accessories: We can improve your processes with our wide range of parts and accessories. We have options that can solve pumping problems before and after a system is installed.
Warranty: We back our products with a 5-year warranty and a diaphragm connecting rod guarantee.
Ease of maintenance: Our exclusive ESADS+ air valve design ensures quick access to the most common part to fail on any AODD pump—which means it can be replaced in about five minutes, compared to 50 minutes on competitor pumps.
Expert support: We have an expert after-sales support team to answer your pumping questions and help you quickly find the tools you need to support your pump.
Decades of innovation, combined with world-class engineering expertise, allows the SANDPIPER team to create products that meet the demands of an ever-changing marketplace. Reach out to a SANDPIPER expert or contact an authorized SANDPIPER distributor to learn more.