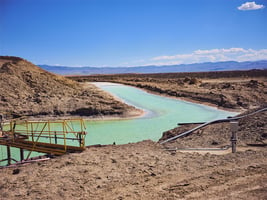 As demand for lithium-ion batteries increases across the globe due to the proliferation of electric vehicles and other uses, lithium mining and processing facilities must quickly scale up from pilot plants to high-volume operations. In some cases, the technology that worked on a small scale doesn't translate to a larger operation and may cause hiccups in the lithium carbonate production process, potentially causing downtime.
One area where this problem can occur is at the end of the line, after lithium mining and extraction, when the lithium carbonate must be dried. Drying the mined material requires a horizontal belt filter that's under vacuum. The mother liquor is pulled from the lithium carbonate into a reservoir, also under vacuum, before being pumped back into the beginning of the lithium extraction process. Because lithium carbonate production is ramping up so quickly, engineering, procurement, and construction contractors (EPCs) and original equipment manufacturers (OEMs) may specify a pump without realizing it will not work properly in the full scale process, or is incompatible with certain conditions of the application.
Ultimately, in a harsh environment like a full-scale lithium mining and processing facility, you need a robust pump that can accommodate a higher flow rate, as well as the ability to pump both under vacuum and handle the solids in the mother liquor. Some pumps, like a hose or peristaltic pump, struggle in this scenario and may collapse due to the suction tank being under vacuum.
Nobody wants to be met with downtime or a production slowdown due to insufficient pumping capabilities. Luckily, the versatile, durable air-operated double-diaphragm (AODD) pump can meet all the requirements of the demanding lithium-carbonate drying application.
Why AODD Pumps Are a Good Fit for Lithium Carbonate Drying
Because AODD pumps have a positive suction lift, they can pull from a source that's under vacuum and continue pumping. You can't say the same for all pump types.
AODD pumps also can handle fine solids. Debris in the mother liquor won't damage an AODD pump like it might another type of pump.
Because of an AODD pump's ability to accommodate both of these variables simultaneously, it's a great fit for the lithium carbonate drying process. Other pumps may be able to handle one or the other of these factors but not both of them. An AODD pump can do both.
Additionally, AODD pumps are known for their ability to operate in tough conditions, they are easy to maintain and repair, and their power source—air—is also readily available in lithium mining and processing facilities.
AODD Pump Selection for Lithium Mining and Processing Facilities
For lithium carbonate drying operations, we recommend a 3" stainless steel metallic AODD pump like the S30, our largest size. Why the 3" pump? When you step up from a small-scale pilot plant to a larger operation, this size can handle the combination of the vacuum conditions and the high flow rate.
One benefit of the S30 is ESADS+, SANDPIPER's exclusive externally serviceable air distribution system. In a lithium processing facility, you're likely to encounter contaminants in your pump at some point. The ESADS+ allows for in-line remote site serviceability, making it easier to break down the pump, clean it out, replace parts and reassemble it quickly, saving your operation time and money.
Whether you work for a lithium mining and processing facility, an EPC, or an OEM in this arena, it's worth considering the power, versatility, and durability of an AODD pump.
To learn more about AODD pumps and their capabilities in the lithium-ion battery mining and processing market, including lithium battery recycling, contact the SANDPIPER team or reach out to your local distributor.