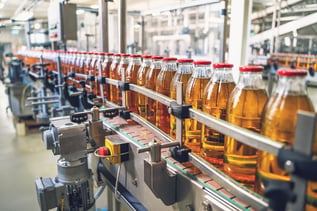 The demands of production in today's modern factories can be overwhelming. If your job is to evaluate processes and technology to improve quality, safety and performance for your company, you cannot afford to make a mistake. When it comes to pumps, you can make your life easy and build your boss's confidence in you by recommending the installation of air-operated double-diaphragm (AODD) pumps—the perfect choice because they deliver the right balance of quality, safety and performance.
Your key focus is likely to keep your systems running at maximum efficiency while delivering top production output rates in a safe environment. When problems arise, as they always do, they must be handled with an aggressive timeline and stay within a strict budget. In addition to that, you need to propose solutions that have been well researched and which will improve operating results. AODD pumps offer unrivaled durability and performance and can meet the needs of a variety of market applications.
Quality and Versatility You Can Count On
AODD pumps are the most versatile pump you can choose. They are robust and durable enough to handle fluid flow from the simplest to the harshest applications.
Most air-operated double diaphragm pumps are portable and they can operate in virtually any position while delivering superior suction lift and flow rates. They are also capable of full submersion, can run dry without damaging the pump and are powered by compressed air (or on some models natural gas), which means electricity and heat generation aren't required for optimum performance.
Additionally, AODD pumps can handle everything from water to abrasive fluids, slurries or solids (with maximum solids passage of up to 3").
Tip: AODD pumps can handle a variety of fluids, so you may only need to purchase one type of pump to do many jobs.
Safety and Reliability Go Hand in Hand
The wide product range of double diaphragm pumps usually is available in metal (sand-casted aluminum, cast iron, stainless steel or Alloy C) and non-metallic (PTFE, polypropylene and PVDF) constructions.
Metal AODD pumps are ideal for applications where heat, chemical compatibility or explosion risk requires a metal casted pump, and stainless steel and high-polished metal pumps are excellent choices where hygiene is a concern, such as the food processing, pharmaceutical and cosmetic industries. Hygienic metal pumps can be constructed of FDA-compliant materials and come with FDA certification to ensure reliability and cleanability. Variable flow capacities are 0–235 gallons per minute.
Non-metallic AODD pumps are often selected for their light weight and portability. They're ideal for handling highly corrosive and hazardous chemical fluids, as well as liquids containing solids.
Tip: Reputable manufacturers will offer a chemical compatibility guide to ensure your pump matches your application. This is especially critical in helping to prevent leaks, which can lead to lost revenue, downtime, safety concerns for workers and, potentially, environmental issues.
Efficient and Dependable Performance Saves Money
AODD pumps are easy to maintain because they contain only a handful of parts. Fewer parts mean fewer repairs, resulting in a pump that requires less maintenance and setup than other pumping types.
Consult a size-selection chart when choosing your AODD pump to ensure you're getting the proper flow for your specific job. An appropriately sized pump can lower your initial investment, as well as repair, labor and energy costs, and is the most critical decision to achieve the desired performance from your pump.
A variety of porting options are available for the range of applications you may use this AODD pump in. For example, bottom discharge capabilities can help eliminate damage caused by solids settling in your pump, while other porting options may provide you with improved suction lift.
Tip: Choose an AODD pump manufacturer that has experienced application engineers on staff to help you determine the best pump size and porting options for your application. This will increase your pump's performance life, efficiency and save you time and money.
Choosing the Right AODD Pump for Your Application
As mentioned above, choosing the correct AODD pump will maximize performance and efficiency, while keeping your employees and your facility safe.
The following chart compares 1–4" metallic and non-metallic heavy-duty flap valve, heavy-duty ball valve, containment-duty and standard-duty pumps.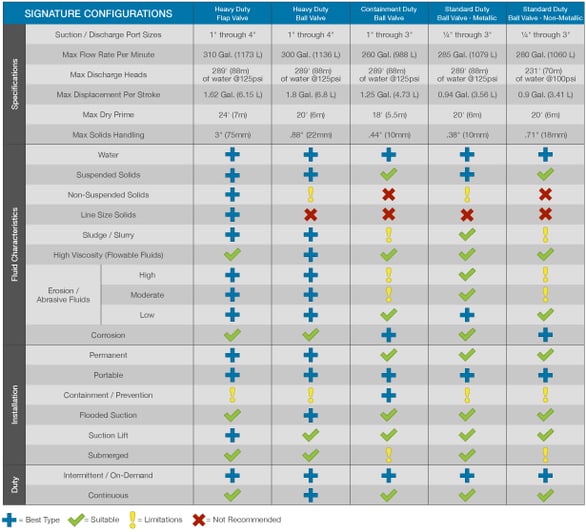 One Final Box to Check
The application of AODD pumps is practically limitless. The list below may be useful to review for additional details on how AODD pumps are used in many of the most common markets and applications:
The Right Pump for Your Job
Now that you've decided an air-operated double diaphragm pump is the right choice to meet your application requirements, the next step is choosing a pump manufacturer.
You want a pump manufacturer that will partner with you and who understands your needs so you get a product perfectly matched to your application. Select a manufacturer with a history of producing quality, high-performance AODD pumps and technical resources that ensure long-term durability, consistent product performance and product lifespan.
The right pump should also be backed by warranties and guarantees, and designed with ease of maintenance in mind which reduces your time and cost to keep your pump running.
For over 55 years, SANDPIPER's broad scope of pump offerings has made us the first choice for customers around the globe. Our consistent history of innovation and reliable, durable designs have built our reputation as the premier AODD pump manufacturer. Our pumps stand up in the harshest environments and our exclusive technology provides designs that ensure safe operation and make maintenance quick and easy.
If you have additional questions or would like to consult with our team of highly skilled Application Engineers about the selection or application of any of our pumps and whether they will work in your AODD pump application, contact us today or find and reach out to a local distributor.