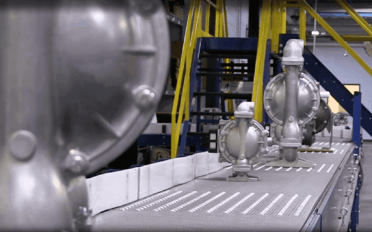 Many manufacturers of air-operated double-diaphragm (AODD) pumps and other industrial pumps have a global reach. They sell their pumps, parts, and accessories into dozens of markets for use in an untold number of applications worldwide.
Suffice it to say, it would be difficult for a pump manufacturer to sell and support every single one of their pumps in the marketplace. So to focus on what they do best — building reliable pumps and developing innovative solutions for their users — manufacturers like SANDPIPER work with networks of independent, factory-authorized distributors. These local and regional suppliers expand pump manufacturers' reach and enhance the user experience.
Although in some cases users may buy pumps, parts, and accessories directly from a manufacturer, it typically makes the most sense to go through the distributor channel. Why? Distributors specialize in selling and servicing industrial pumps and fluid handling systems. That's all they do, so they do it well and deliver what pump buyers need most: speed, cost-effectiveness, and an excellent user experience.
Why Distributors Sell AODD Pumps Efficiently
One of the primary reasons to buy from a pump distributor rather than a pump manufacturer is because of their reach and proximity to you, which delivers many benefits.
For instance, a manufacturer may have a sales team of 10 to 20 people, compared to a network of 300 distributors, all of which have their own inside and outside sales teams. Realistically, distributor representatives can respond faster to customers than manufacturers can.
Plus, distributors are located in the users' own backyards, giving them "feet on the ground" in the local or regional market and allowing them to build strong customer relationships. With the benefit of closer proximity also comes more intimate knowledge of the markets in which their customers operate and what they may need to operate effectively. Not to mention, being closer to the end user often provides better pricing and faster response times.
Why Service & Support Play a Role
After-sales support and technical expertise are further reasons distributor relationships are so valuable. AODD pump distributors are often a "one-stop shop," offering customers not only a company to sell them a pump, but a company that can help them install it, operate it, troubleshoot it, and maintain it from cradle to grave.
For example, most SANDPIPER pump distributors have service shops staffed with technical experts to do on-site equipment repairs or take machines back to their facility for maintenance if needed. They also commonly sell complementary products users may need, making them a partner in their customers' success versus just a place to buy a pump.
How SANDPIPER Supports Distributors
Likewise, SANDPIPER operates as a partner in our distributors' success. Our technical services group supports our distributors with training, the latest technical information, answers to application questions, and more. We arm our distributors with the information they need to become AODD pump experts through a variety of training opportunities. These include virtual sessions, on-site classes at distributor and end-user facilities, and courses hosted at Warren Rupp's training facility at our headquarters in Mansfield, Ohio.
In turn, SANDPIPER attracts high-quality distributors who ensure its AODD pump customers around the globe have access to the best technical experts and products available to keep their operations running efficiently all the time. Many of our distributor relationships go back 30 years or more, and some go as far back as the inception of our parent company Warren Rupp.
When looking for a pump supplier to support your business, seek out a consultative relationship with a distributor who stands behind their products, is knowledgeable about fluid systems, and is responsive to your needs. Especially in this day and age of smaller maintenance budgets and supply chain disruptions, you need a proactive partner who does more than sell you a pump.
To get in touch with the factory-authorized SANDPIPER pump distributor in your region, simply enter your ZIP code, province, or country on our website. You can also contact us for more information.