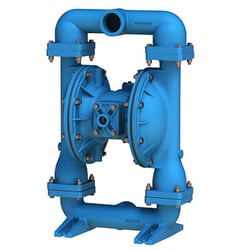 The word "standard" may sound ho-hum, but it also means "something established by authority or general consent as a model or example." The latter defines SANDPIPER's 2" S20 Evolution, a standard-duty air-operated double-diaphragm (AODD) ball valve pump available in both metallic and non-metallic models. The S20, which has been around for decades, is the best, most versatile AODD pump on the market.
That's why SANDPIPER's parent company, Warren Rupp, reengineered the S20 in 2017 to the Evolution version rather than rolling out an all-new standard-duty diaphragm pump with different accessories and features.
Until the Evolution, most AODD pump efficiency gains had been marginal. But with the Evolution, SANDPIPER engineers reduced air consumption by 59% and increased flow rate by 32% by making a few simple changes to the existing pump components.
These upgrades, plus the addition of the non-metallic S20 Containment-Duty Pump, have solidified the S20's reputation as the measuring stick for 2" AODD pumps across a variety of markets, including ceramics, chemicals, coatings, electronics, environmental/wastewater, transportation, packaging, pulp & paper, sanitary, steel, and more.
Why the S20 Diaphragm Pump Is So Versatile
AODD pump users need heavy-duty pumps that will deliver in harsh, ever-changing conditions. For instance, when dewatering a mine, your needs range from accommodating a trickle of water to pumping a veritable flood. You need a pump that can handle those variable conditions plus abrasive fluids and suspended solids.
The SANDPIPER 2" S20 Evolution Metallic AODD Pump is so versatile because it meets those needs, in addition to being the highest-performing, most-efficient AODD pump available. Material options include aluminum, cast iron, and stainless steel construction, and TPE and PTFE options for diaphragms and check valves. Additionally, the S20 offers market-leading max flow rates (up to 32% higher capacity) and the lowest air consumption (requiring 59% less air to operate) in its class.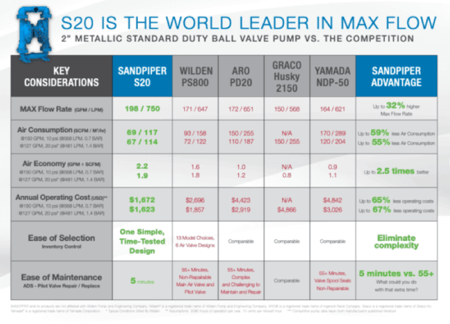 When SANDPIPER engineers updated the S20 to the Evolution, they leveraged simulation technology, computational fluid dynamics, and nonlinear analysis to shape the pump's flow areas and flow paths to make it much more efficient than the competition. A key component of the product's innovation was maintaining simplicity while avoiding unnecessary features and accessories.
The S20, like the S30 and other SANDPIPER pumps, is a large displacement pump. The diaphragm strokes much slower than the competition — it has about half the stroke rate of other AODD pumps, which improves the life of diaphragms, check balls, seats, and manifolds. The result for pump users is a more efficient, durable pump with less money spent on consumables and less time spent on maintenance.
Adding to the S20's simplicity is the externally serviceable air distribution system (ESADS+). This feature, which is exclusive to SANDPIPER, allows for quick and easy access to one of the most frequently serviced parts of an AODD pump. ESADS+ allows you to repair or clean the air distribution system (ADS) in five minutes by removing just four bolts, compared to a 55-minute-long full teardown for competitor pumps.
Additionally, the pump's center section is fully interchangeable with other SANDPIPER standard-duty pumps. Other manufacturers often change their air valve technology, which increases the hassle and cost of owning their pumps. SANDPIPER has one standard air valve, making it easier and more affordable to maintain.
Containment-Duty Option
The SANDPIPER S20 Non-Metallic 2" AODD Pump offers protection for operators that pump hazardous material and require fluid containment.
In the event of a diaphragm breach, the leak-free design of the S20 non-metallic containment-duty pump ensures the fluid enters a containment chamber rather than the environment, where it could harm people or equipment. The pump also provides visual and electronic indicators to alert users that maintenance is needed.
Diaphragms fail — that's the nature of AODD pumps. Users who are pumping potentially dangerous or environmentally hazardous chemicals can have some peace of mind knowing that the S20 containment-duty pump won't leak and will alert them if there's a problem, keeping their teams and environments safe while minimizing downtime.
What's Next for the S20?
Just like they did when they developed the Evolution, SANDPIPER engineers are continuously enhancing their pump designs through simulations and other technology. Pump users can look forward to the soon-to-be-launched SANDPIPER Evolution X line, which will introduce even more improvements in efficiency, versatility, and convenience.