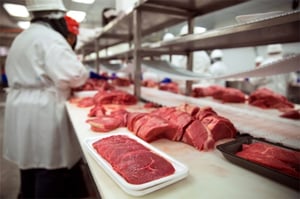 Meat and poultry production requires tough and reliable pumps that can handle blood, organs, fat and waste from animals.
From pigs, cattle and sheep to chickens and turkeys, the processing steps are similar.

Every step of the process presents unique pumping challenges. Two of the most common challenges we hear from pump users are:
Pumps get plugged up with solids from all parts of the process
Plant water transfer systems and sumps get backed up
In this blog, you'll learn what many meat and poultry processing companies are doing to solve common pumping problems.
Meat Processing Applications
Typical Blood Collection and Transfer
Harsh and messy
Solids find their way into the process and become trapped in pumps
Collection areas and passages need to flow without backing up to ensure cleanliness and safety
Abrasive properties of blood can wear through conventional pump walls and chambers
Shear forces cause frothing and damage downstream blood products
Scalding, De-Hairing and De-Feathering
Hair and feathers clump-up and are difficult to pass through conventional pumps
Hair and feathers fall onto the floor and into drains where they create backups
Pumping equipment must reliably handle everything from clean water to water containing solids
Evisceration (Removal of Internal Organs)
Harsh and messy
Parts are separated for later processing
Collection areas and passages need to flow without backing up to ensure cleanliness and safety
Transfer of casing waste, organs, feet, heads, beaks, etc. is challenging for typical pumps
Process Water
Solids of various sizes and shapes enter the water stream
Sumps, troughs and collection areas need to flow
Floor drain grating does not prevent solids from entering plant water drain systems
Submersible pumps are challenging to use and maintain
Washdown and Sanitation
Variety of chemicals, detergents and caustics used
Equipment materials need to be properly selected to ensure compatibility, safety and reliability
Risk of electrical shock
Wastewater
Dissolved Air Flotation (DAF) systems and other treatment technologies create viscous and chunky sludge
Must be able to reliably pump water containing solids with air pockets
Must be able to pump viscous fluids at high capacity
Pumps Used in Meat and Poultry Processing
Pump
Advantages and Disadvantages

Centrifugal

Advantages

High flow capacity
Compact compared to other motorized technologies
Special "trash" versions


Can handle solids
Are self-priming
Are available in up to 10" pipe size

Disadvantages

Cannot run dry without mechanical seal damage
Intolerant to cavitation
Complicated installation and alignment
Requires electricity—potential for shorts and shocks
Performance degrades as parts wear out
Expensive to purchase and install
Imparts shear forces into the fluid
Deadheading imparts heat into fluid—damages seals
Rotating seals and packings can leak and are difficult to repair
Motor, base and other accessories required
VFD or throttling of discharge required

Progressive Cavity

Advantages

Can pump shear-sensitive fluids without damaging the fluid
Can pump high-viscosity applications
Low pulsation output
Can pass small solids
Self-priming—not from a dry start
High accuracy—can be used for metering
Reversible—can be operated in either direction
Quiet operation

Disadvantages

Cannot handle abrasive fluids—damages stator
Cannot pump low-viscosity fluids effectively
Cannot run dry—damages the stator, rotor and seal
Labor-intensive maintenance
Expensive repair parts and mechanical seals
Requires shaft alignment—key to seal and bearing life
Cannot deadhead—damages pump
Complicated sizing and selection process
Limited flow capacity
Limited head pressures—cannot pump long distances
Requires control system to avoid dry run and deadhead
Requires electric service
Takes up a lot of space compared to other pumps

Air-Operated Double-Diaphragm (AODD)

Advantages

Runs dry without damaging the pump or system
Self-priming—works in suction lift applications
Deadheads safely with no pump or product damage
Does not shear or separate product being pumped
No electricity required—can be fully grounded
No degradation in performance as the pump parts wear
Low initial purchase price compared to other technologies
Submersible—can be completely submerged without safety or performance issues
No expensive mechanical seals or packings required
Variable flow and head pressures without sophisticated controls
Simple to install and portable


Disadvantages

Bottom suction, top discharge so the fluid fights against gravity
Settling solids can fill up the pump chambers, reducing performance and shortening life
Dramatic flow directional changes and pinch points lead to capacity degradation
Ball check valves cannot handle many fluids containing solids

What if There Was One Pump That Could Do It All?
There is! For decades, the meat and poultry processing industry has trusted SANDPIPER's heavy-duty flap valve pumps to solve common clogging challenges, from blood collection to wastewater management. The flaps allow solids as large as the pipes to pass through, including feathers, pig hair, casing room waste, organs, process water solids and wastewater solids and sludge.
These pumps, which have been the workhorse of the meat and poultry processing industry for over 50 years, feature:
Thick, robust chambers that withstand abrasive blood flow
Bolted construction for robust, leak-free performance
Top suction/bottom discharge for gravity-assisted solids transfer
Compared to AODD ball valve pumps and other rotating pump technologies, heavy-duty flap valve pumps are optimized to enhance performance and efficiency.
Highest flow capacity (1", 2" and 3" pumps available)
Lowest air consumption in its class
If you can reduce how much air you use, you're going to reduce your carbon footprint.
No reduction in performance as the pump ages
Minimal flow velocity changes for superior handling of thick, viscous fluids
SANDPIPER's patented exclusive externally serviceable air distribution system (ESADS+) allows for complete access to the main air and pilot valves without removing the pump from service.
Need a Meat & Poultry Processing Pump?
SANDPIPER has a complete portfolio of AODD pumps tailored to the unique rigors and severe applications of meat and poultry processing. From blood collection to wastewater management, SANDPIPER is here to help.
We're capable of providing pumping solutions for the meat processing and rendering industry with high-quality, cost-effective products backed by best-in-class warranties and certifications, including 3-A, FDA and the EC 1935/2004 Food Contact Materials Standard.
For more information on our selection of AODD pumps for meat and poultry processing, visit our Pumps page.