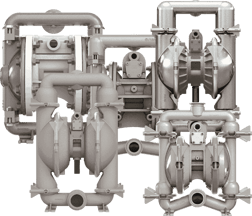 2020 put a strain on many companies producing sanitary and hygienic products. In turn, many manufacturers were deemed essential in helping support the production of these goods. SANDPIPER's F-Series pumps continue to support these manufacturers by providing readily available, safe and efficient pumping technology, helping increase production while decreasing downtime.
What Does FDA-Compliant Mean?
FDA-compliant is a shorthand way of talking about materials that are safe for direct food contact. The materials that make up a pump are key to ensuring the pump is FDA-compliant.
Because the FDA regulates many food products, all pump components must comply with the FDA's Code of Federal Regulations (CFR) Title 21 Part 177 for materials that come in contact with food and beverages. Natural undyed Santoprene, Polytetrafluoroethylene (PTFE) or Teflon and stainless steel are several popular material options used for FDA-compliant food processing air-operated double-diaphragm (AODD) pumps. Some manufacturers also offer electropolished stainless steel castings for a shiny and smoother surface finish, enabling easier, more efficient cleaning.
1935/2004 Food Contact Materials Standard
This certification (goblet and fork logo) shows that these food processing and hygienic pumps are made of lab-tested and approved materials that will not affect the composition of the food products they meet, such as 316 electropolished stainless steel, virgin PTFE, Hytrel 4069 and Santoprene 273-40.
F-Series FDA-Compliant Pump Applications
Clamped, ball valve pumps are ideally suited for a variety of food and beverage processing, pharmaceutical and cosmetic industry applications where electropolished surfaces and easy disassembly are required.
Common applications for the F-Series FDA-compliant pumps include ingredient injection, product transfer, blending and mixing, filling lines, winery pump-overs, chocolate production and sanitizing solutions.
F-Series FDA-Compliant Pump Features
The F-Series boasts features necessary for the production of food and other sanitary products. Pumps are electropolished 316 stainless steel inside and out for reduced product adhesion. They also feature a nickel-plated aluminum center section for compatibility with washdown chemicals (polypropylene or stainless steel available on some models).
Configurations Best Suited for the Application
Whether the food and beverage application is in small batches or continual operation, SANDPIPER has an option for your FDA needs.
Generally, with small batches of product, the pump will need to be disassembled for cleaning after each use to avoid potentially contaminating the next run. Examples of these are soups, salsas, cake batters or barbeque sauces. For these applications, a clamped design pump is recommended as it allows for quick disassembly with minimal tools. To further simplify this process, some models are offered with easy-to-use wing nuts.
If the process rarely changes and teardowns are more infrequent, SANDPIPER delivers with a leak-free bolted FDA-compliant design. This robust bolted design offers an even seal on diaphragms and check valves, keeping expensive product off the floor. Some examples of these applications may include wine and chocolate production.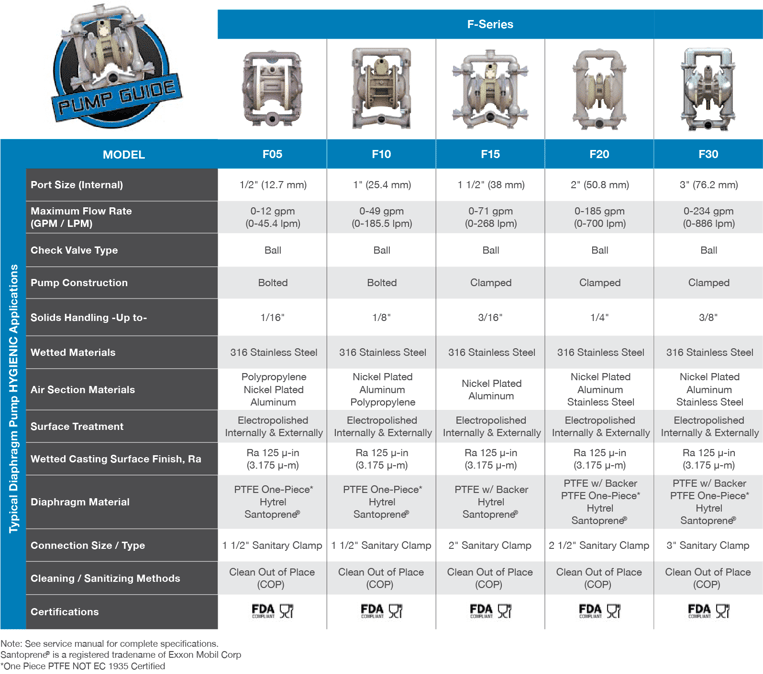 In Stock and Ready for Immediate Delivery
Whether your application includes food filling and packaging, product batching and transfer, recirculation and fermentation pump-overs, SANDPIPER is here to help.
SANDPIPER pumps are manufactured by Warren Rupp, a business unit of IDEX Corporation. With over 55 years of trusted solutions expertise, SANDPIPER delivers best-in-class pumping and engineering innovations for the world's most difficult and demanding pumping challenges. Contact a local distributor to find a SANDPIPER pumping solution that's backed by superior quality and workmanship.