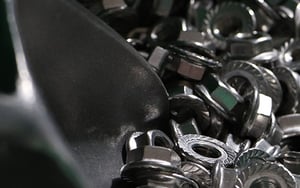 Knock-offs. Generics. Counterfeits. Pirated parts. Whatever you call them, buyers beware of third-party aftermarket AODD pump parts and accessories. These inauthentic components may pose serious risks and challenges for your operation.
Why would an AODD pump user purchase anything but a genuine part made by the official equipment manufacturer (OEM)? For some, it comes down to price or availability. For others, it's not intentional. There are third-party parts manufacturers, also known as replicators, that make components that visibly resemble our products so closely and may even bear our branding that most users can't tell the difference.
For instance, we found one copy from China that seems visibly distinguishable only by the text on the casting. It said "Warren Rupp," which is the name of SANDPIPER's parent company, so it seemed legitimate to the customer. Here's the catch: Our parts don't say "Warren Rupp." They say "SANDPIPER."
Whether you're choosing third-party aftermarket pump parts due to cost or availability or you've been duped into buying fakes, here are a few good reasons to reconsider your purchasing process and commit to buying only OEM parts and accessories.
1. You don't want to forgo OEM service and support.
AODD pump OEMs put an untold amount of time, effort, and resources into designing, engineering, developing, and testing products before they bring them to market. As a result, the price you pay for OEM pumps, parts, and accessories may be higher than those of replicators or counterfeiters, but the premium price covers more than what's in the box. The OEM price covers everything on the front end that goes into manufacturing high-quality products, plus after-sales service, including field support and technical support.
When you choose a non-OEM aftermarket accessory or you mistakenly buy a pirated part, the makers of those products are not going to be there to support you when you run into pumping challenges. They are there to sell you a product; they don't have a global network of distributors and technical support personnel available to assist you after the sale.
2. You don't want to void your AODD pump's warranty.
Similarly, part of the value you get when purchasing an authentic SANDPIPER pump is a five-year limited warranty. But that warranty does not apply when you use "any accessory or other product that does not bear a Warren Rupp brand."
Stick with genuine parts to ensure you get the full value out of your OEM's warranty.
3. You don't want the quality or safety repercussions of subpar parts.
SANDPIPER pump parts and accessories are precisely engineered and quality-tested for superior performance. One example is endurance testing. All SANDPIPER components are validated through thousands of hours of endurance testing to ensure they will perform as advertised. Third-party aftermarket manufacturers cannot say the same. They simply copy OEM parts by reverse engineering them and sell them at a lower cost, but may not use the same manufacturing processes or materials that are the output of that testing. While aftermarket parts may look the same, there are no assurances that these products will meet your quality or performance expectations. In fact, it's likely they'll require more maintenance and run less efficiently, increasing your pump's total cost of ownership. Losing a few points of efficiency over the lifespan of a pump could mean tens of thousands of dollars in compressed air or electricity costs.
Beyond quality and reliability, safety should be top of mind for any AODD pump user. If you're pumping harsh chemicals, for example, you don't want inferior parts increasing your risk for unexpected corrosion or leaks. Pump leaks and failures lead to costly downtime and potentially hazardous conditions for your colleagues.
4. You could lose your certifications.
SANDPIPER understands the importance of certifications like ATEX and FDA compliance, and how they can be essential to your business meeting local regulations or consumer requirements. As a result, we invest in numerous certifications designed to assure customers that the pumps and parts they're purchasing meet various industry standards and application-specific requirements. Replicators do not offer the same assurances, and in fact, may void your certifications for things like CE and ATEX.
To avoid unintended costs and consequences of using third-party aftermarket parts instead of genuine OEM parts, remember to only buy parts and accessories from an authorized SANDPIPER distributor. If you encounter pirated pumps or parts claiming to be SANDPIPER's, please contact us so we can work to eliminate counterfeit products from the market. And if you're considering third-party aftermarket parts due to supply chain or availability issues, please let us know so we can work with you to help solve your pumping problem.