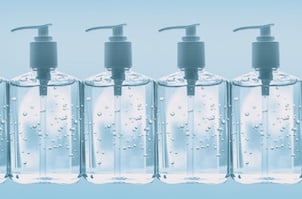 The COVID-19 pandemic is the largest global health crisis the world has faced in over a century. The only solution to this crisis is working together.
While frontline medical workers treat patients and essential workers keep store shelves stocked, some companies are carving out a role for themselves to help flatten the curve and keep people safe.
Until recently, many facilities that use air-operated double-diaphragm (AODD) pumps were producing items like pharmaceuticals, personal care products and different types of food and beverages. Now, some of those companies have repurposed their pumps to produce hand sanitizer. If your company has the ability to switch its facilities to produce sanitizer, you need some guidelines.
If your company is looking for a way to help with the crisis and has the ability to switch its facilities to produce sanitizer, you need some guidelines.
Here are 10 things to consider when you're switching your AODD pumps to hand sanitizer production:
1. Cleanliness
Before switching to a new process, you need to make sure the unit is clean. The best way to do this is to clean the surfaces of the pump's wetted side completely.
Remember: Outer surfaces of the pump will see the environment while the inner workings of the pump will be exposed to the product.
2. Erratic Operation
If your pump isn't working properly, check to make sure:
The pump is close enough to the source
The pump is close enough to the discharge
The pilot valve is running correctly
The product being pumped is thin enough—if not, turn the air pressure up
3. Check Ball Chatter
If you're hearing noise from the check area, slow the unit down or add head by slowly closing a valve until the noise stops.
4. Open Flaps
If the flaps keep sticking open, use a ball valve.
Remember: Flaps are designed to move solids and ball valves are designed to move liquids and slurries.
5. Diaphragms
If the pump's diaphragms aren't working properly, you probably have the wrong elastomer for the job. Check the pump manufacturer's chemical compatibility guide.
Tip: Torque the diaphragm plate during assembly. Not torquing could cause leaks.
6. Preventative Maintenance
Develop a preventative maintenance plan that includes regular service rather than waiting for a failure. For quick and easy maintenance, check with your pump manufacturer or local distributor for complete air side and wet side repair kits.
7. Optimize Performance and Efficiency
Your pump size and settings may not be appropriate for all liquids being pumped. Make sure your pump is sized correctly for your application requirements.
Tip: If you choose a pump one size larger than what you need, it won't have to work so hard. Consequently, it will pump more efficiently and its life span will likely be lengthened.
8. Choose the Proper Pump
Though AODD pumps are very versatile, they are not necessarily "one-size-fits-all" when it comes to applications. Choosing the proper pump can solve common problems. As a general rule:
If you're pumping slurries (like hand sanitizer with gel agents), choose a heavy-duty ball valve pump.
If you're pumping solids, choose a heavy-duty flap valve pump.
If you need to contain harsh chemicals, choose a containment-duty ball valve pump.
If you're pumping hand sanitizer of any kind, the pump must be FDA-compliant.
9. Proper Application Setup
When you're producing hand sanitizer, it may be beneficial to add some accessories to your pump:
Pulsation dampeners: All AODD pumps create pulsations of product fluid as they operate. Pulsation dampeners are easily installed tools for a more consistent flow.
Filter regulators: AODD pumps are powered by air, which can be warm, wet, dirty and, often, unregulated when leaving an air compressor. The combination of dirty and unregulated air can damage and/or shorten the pump's life. To alleviate this issue, filter regulators remove solid and liquid contaminants while controlling the air flow to increase the service life of AODD pumps and other air system components.
Tip: To make sure your pump can handle the liquids used to produce hand sanitizer, consult your pump manufacturer's chemical compatibility guide.
10. Proper Routine Cleaning/Sanitization
Make sure you're following the proper protocols for your application, whether cleaning and sanitization take place after every shift or in 24-hour intervals. With few working parts, AODD pumps are easy to clean. Some manufacturers offer exclusive designs that allow for in-line cleaning. Check your manufacturer's guidelines.
Tip: Some pump components can't handle high temperatures or pressure washing. Check with your manufacturer or distributor to make sure you're using the proper cleaning/sanitization methods. And make sure to always check the pump manufacturer's chemical compatibility guide to ensure the cleaning materials are compatible with the materials of the unit.
Using AODD Pumps to Help With Hand Sanitizer Production
AODD pumps can pump virtually any liquid safely and efficiently.
If you've decided to rely on the versatility of your AODD pump to produce hand sanitizer, make sure your pump can handle the application. Follow the manufacturer's guidelines for proper use and industry standards for appropriate cleaning and sanitization.
If you have a SANDPIPER pump, check the chemical compatibility guide and consult SANDPIPER's experienced engineers and after-sales support team for guidance and troubleshooting tips. Or, feel free to leave your question as a comment below.
Have you produced hand sanitizer in your facility? Share your experiences in the comments.