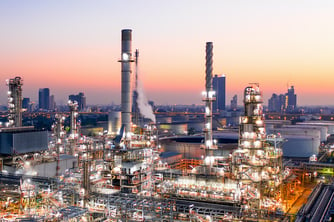 Oil rigs, midstream production and refineries are dangerous places where one spark in a highly combustible environment can mean disaster.
When you're working in the oil and gas industry, you don't have time to mess around with unreliable equipment. Whether onshore or offshore, you need machinery you can trust to do the job the first time.
Air-operated double-diaphragm (AODD) pumps are one of the most critical pieces of equipment to the industry. Oil and gas workers count on AODD pumps to not only keep their production moving smoothly, but also to keep them safe.
In fact, there are many reasons you should use engineered AODD pumps in critical applications, like those within the oil and gas industry.
1. AODD pumps are safe in potentially explosive environments.
AODD pumps by their nature do not use electricity and are fully groundable. This is important because groundable equipment prevents static discharge from igniting a combustible environment.
2. Natural gas powered pumps are available.
Traditional AODD pumps are designed for use with air only. Over the years, oil and gas operators have opted to power their diaphragm pumps with easily accessible natural gas. In years past SANDPIPER developed a full line of CSA certified Natural Gas operated double diaphragm pumps (GODD) pumps. This G-Series pump line is CSA certified to be operated with either sweet/sour natural gas or instrument air. Standardizing on one product line can provide safety features and help standardize inventory for multiple locations.
3. GODD pumps are versatile.
Gas or Air operated Heavy-duty flap valve pumps can safely carry the abrasive slurries, suspended and non-suspended solids and large line-size solids found in the oil and gas market. Gas/oil field pumps can be used in a wide range of applications, including:
Lube oil transfer
Glycol recirculation/heat trace
Flare knockout
Glycol transfer/water make-up
Sump/general transfer
Tank bottom recirculation/transfer
Utility/general transfer
Separators and knockout drums
General-duty spill cleanup
Diesel fuel transfer
Seawater pump for drilling mud make-up
Produced water/condensate transfer
Cellar pump-out and mud transfer
4. AODD/GODD pumps can be used in flare knockout applications.
AODD/GODD pumps can pump liquids with entrained gasses while many other pump designs will air bind due to excessive amounts of gasses present. The liquid and gas mixture can then be disposed of or reprocessed.
5. Different porting options are available.
Look for AODD/GODD pump manufacturers who offer bottom discharge porting, which prevents settling solids from shortening pump life and provides superior suction lift.
6. Flap valve pumps offer superior solids handling.
Flap valve pumps with top suction configurations are designed to pump solids without causing damage to pump internals caused by solids build up.
7. AODD/GODD pumps are portable.
Safely and easily transported, double diaphragm pumps are made for tough environments. Some are made with roll cages or skid bases, so they can be thrown in the back of a truck and taken from one site to another.
8. AODD/GODD pumps work consistently despite the temperature.
AODD/GODD pumps can operate in the freezing and extremely high temperatures encountered on oil rigs or in gas fields.
9. Containment-duty AODD pumps help prevent leaks.
Metallic and non-metallic containment-duty pumps are ideal for pumping highly corrosive and hazardous chemical fluids. These can be constructed of aluminum, cast iron, stainless steel, alloy C, polypropylene and PVDF bodies with elastomeric and PTFE options for diaphragms and check valves. Unlike a traditional AODD, the design of the pump will prevent fluid from leaking in the event of a diaphragm failure. It will also prevent instrument air powering the pump, from entering the process fluid when the diaphragm fails.
10. Accessories can improve pump efficiency/lifespan.
Accessories, such as filter regulators and liquid level control, can be purchased and installed to increase the process control of the process and lengthen the lifespan of the pump.
Superior Oil & Gas Pumping Solutions
Because of the vital role pumps play in the oil and gas industry, buyers and engineers need to be confident in their purchases.
SANDPIPER has a long history of providing superior pumps for the oil and gas industry.
In 2003, we partnered with the Canadian Standards Association (CSA) to lead the development of the first safety certification for gas-operated double-diaphragm (GODD) pumps. Today, we:
Are the only GODD pump manufacturer offering a full range of CSA-certified pumps (with sizes that range from ½" to 3")
Have a complete line of pump accessories, including the only CSA-certified point-of-use natural gas regulators available
Make the most leak-proof AODD pumps on the market
For more information on our selection of AODD and GODD pumps for the oil and gas industry, visit our resources page, or find a distributor near you.