When you have questions about your air-operated double-diaphragm (AODD) pump, you need answers immediately. Our mobile app is designed to effortlessly and instantly find the tools you need to support your pump.
Locate: Find information related to your pump.
Identify: Learn about accessories and service kits available for your pump.
Submit: Request for quotes can be completed in the app.
Watch: Get educated with service and training videos.
Review: Access our Chemical Compatibility Guide, literature, service manuals and more.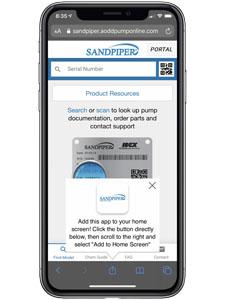 To view the app on your phone, open this page on your phone and click the "View Now" button below.
Available exclusively here–not available in the app store! Compatible with any device. Best if viewed in Chrome, Firefox or Safari.