COMMONLY USED APPLICATIONS FOR SANDPIPER AODD PUMPS IN HEMP-BASED CBD PRODUCTION
Partner with us for decades of innovation, world-class engineering expertise and solution-focused pre-sales and post-sales support across the hemp-based CBD market in applications such as:
Chilled Ethanol transfer
Biomass slurry transfer
Ethanol-Rich Tincture transfer
Filter Press systems
Centrifuge systems
Lenticular filter systems
Ethanol recovery
Wax and lipid transfer
COMMONLY USED SANDPIPER AODD PUMPS IN THE HEMP-BASED CBD INDUSTRY
Click on each pump below to view additional pump details. These standard duty pumps are available in metallic and non-metallic options with ATEX certification.
Learn more about certifications available and why it's important to ground your pump.
To determine the chemical compatibility of these pumps with your application, please refer to our Chemical Compatibility Guide.
Solvent Filling, Transfer and Recovery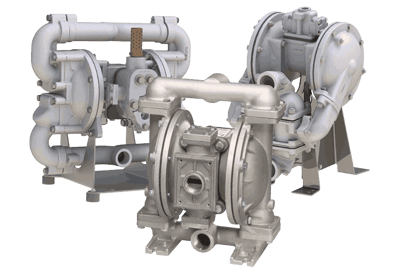 Biomass Transfer and Pre-Winterization with large or suspended solids
Biomass Transfer and Pre-Winterization with viscous or settling solids