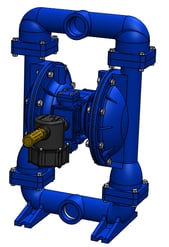 Leaks happen. And when they do, you need to react quickly. Introducing the IntelliRupp device, the simplest way yet to detect leaks immediately, wherever you are.
Be among the first to optimize the performance of your SANDPIPER pumps using real-time leak-detection alerts.
How You Will Benefit From the SANDPIPER IntelliRupp Device
Timely AODD Pump Intelligence & Insights: Receive real-time leak-detection alerts via text or email, so you can proactively prevent safety hazards, protect your equipment, and minimize downtime.
A Simple Way to Optimize Pump Performance: Simply download our user-friendly IntelliRupp app, install the device on any SANDPIPER AODD pump in three steps, connect your gateway, and start monitoring your pumps. With our IntelliRupp device installed, you'll be able to react faster to problems and improve system performance.
Envision Operational Excellence: Ensure your SANDPIPER AODD pumps contribute to overall operational excellence. As the simplest, fastest, and most accurate method available to get notified of AODD pump leaks, the IntelliRupp device will help you minimize the loss of process fluid and downtime. The end result is you gaining the peace of mind you need to focus on optimizing other operational areas.